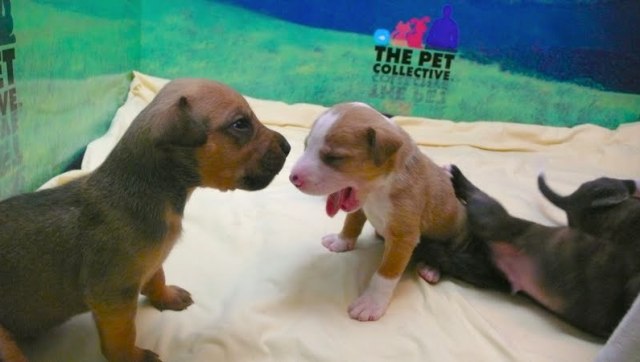 We can faintly hear the sound of all workday productivity grinding to a halt because you can now watch puppies live!
Following the popularity of the Corgi Cam, the Shiba Inu Cam, and the Kitten Cam, the Pet Collective brings us what is possibly the most adorable set of mixed pitbull puppies to ever be on camera. (Hey, what's life without a little hyperbole?)
The channel features Hope and her six beautiful newborn puppies. Hope was an owner surrender -- her previous owner left her at a shelter when she was pregnant.
The six puppies and their mommy will now be viewable 24 hours a day, seven days a week.
What's more? Starting today through October 31, the Pet Collective will make a donation for every new subscriber it receives. Donations will benefit New Leash on Life, a California rescue group that is currently home to the dogs.
And -- just when you thought it couldn't get any better -- the six pups and Hope are all available for adoption!
Go on, we know you can't help but watch:
BEFORE YOU GO