There's not much to say about this picture, uploaded to Facebook earlier this month by the admin of Sports in Barcelona.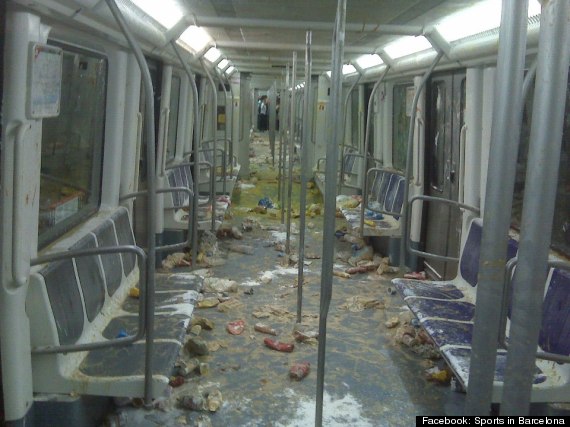 The description posted along with it is enough:
Looks like the sport of Metro food fights are all the craze in Barcelona ... This was taken 2345 last night at Diagonal Metro ! Jeeeez !!!!
For those who doubt the image's authenticity, an article on Spanish language web site LaVanguardia.com may offer some proof.
On the same day the image was allegedly taken, September 18, some 300 to 400 drunken university students rioted in the streets, overturning trash bins and mucking up public property with ketchup, mayonnaise, flour, eggs and water.
Local police were called in to disperse the mob, but it's unclear in reports why it happened in the first place.
At any rate, it looks like the hooliganism ultimately spilled off the streets and into Barcelona's underground public transit system. We have a feeling this took a while to clean up.
Photo by Flickr user ahisgett.
BEFORE YOU GO
PHOTO GALLERY
Spain's Tomatina Festival 2012