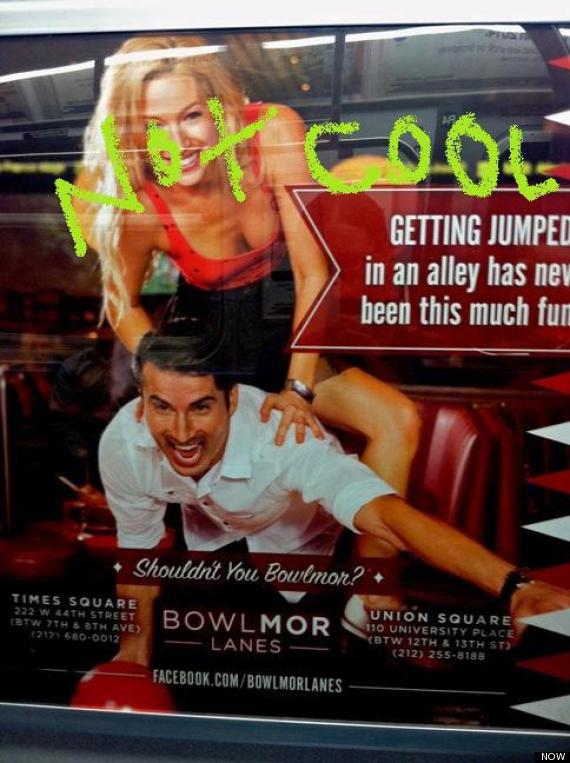 Despite an alarming four rapes in New York City parks in the past month, Bowlmor Lanes is reportedly considering running a controversial subway poster that might make light of sexual assault.
The ads read, "Getting jumped in an alley has never been this much fun" and features a scantily dressed woman in red as she appears to be mounting herself on the back of a male bowler.
NOW NYC, an advocacy group for women, is seeking to stop the ads from being displayed:
The ad attempts to poke fun at a serious issue - rape - and instead invokes the "just get over it ladies!" kind of attitude we've heard again and again this summer from our lawmakers, comedians, and other public figures. With ads like this, how can rape be taken seriously? Enough with the ads that confuse sex and rape and make that OK.

Tell the MTA to remove this ad from our city subways: mta-nyc.custhelp.com or call 511

Call out CBSOutdoor, the company responsible for subway ad space: 800.926.8834 or cbsoutdoor.com/contact.aspx

Call out Bowlmor CEO Tom Shannon on his ad: tshannon@bowlmor.com, 212-777-2214
Bowlmor CEO wrote to NOW NYC in defense of the ad. "The ad is humorous and flirtatious, " he said, according to Jezebel. "NOW's position on this is extreme and laughable."
And a representative for Bowlmor sent the following email to The Huffington Post:
We are surprised and disappointed that our recent advertisement - intended to be a humorous play on the words "bowling alley" - has been misinterpreted to advocate violence against women. Our company - consisting of hundreds of talented men and women - does not support abuse or violence in any form. Since its inception, Bowlmor Lanes has strived to be socially responsible and offer a family-friendly environment to our customers. We offer our sincere apologies to anyone who was offended by this advertisement.

The campaign in question was scheduled to run throughout Aug. 2012, and is no longer in circulation. There are no plans to generate this campaign again.
The word "jumped" of course, doesn't always mean rape. It's possible the ad's copywriters meant a man getting "jumped" as in mugged and/or beat up.
This past weekend, a homeless man was arrested after allegedly punching and raping a 21-year-old woman in Hudson River Park. Ten days prior, a 73-year-old woman was raped in Central Park.
And rapes in New York City are on the rise. The New York Times reports:
The number of rapes and attempted rapes recorded citywide so far this year has increased by more than 4 percent, to 1,058, according to Police Department statistics. The vast majority of those crimes involved a suspect and a victim who knew each other: about 12 percent of rapes involved strangers, according to statistics provided by Paul J. Browne, the Police Department's chief spokesman.
This article has been updated to include the statement from Bowlmor.
BEFORE YOU GO