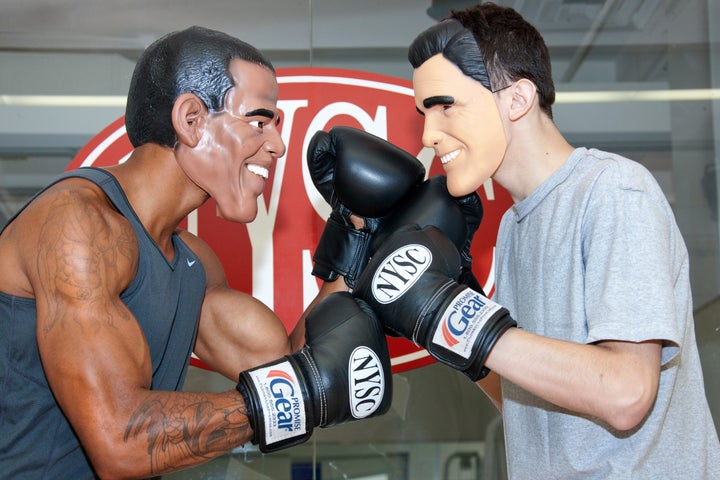 Think you could do a better job balancing the budget than the presidential candidates? Now, you can test your skills at a new, free workout open to the public inspired by (and parodying) the election season.
The "Fit For Office" workout will run into October at select My Sports Club locations. Each cardio and strength move in the 55-minute routine (complete with patriotic playlist) has been dubbed an appropriately-political name, like "Paul Ryan Abs" or "Michelle Obama Arms." A turn at "Balancing the Budget" requires physical balancing, "Swing States" make good use of kettlebells and box jumps have been re-named "Get on Your Soapbox," according to a statement.
"With all of the excitement surrounding the 2012 Presidential Election, we wanted to give New Yorkers a chance to break a sweat and show some muscle for their party of choice," Melissa Morin, Senior Director of Group Exercise Programming for the Sports Clubs said in the statement. "Whether you're up against yourself or someone else, an election -- just like an awesome workout -- is competitive by design. With these parallels in mind, Sports Clubs saw the presidential rundown as an opportunity to provide a fun and fresh take on fitness to our members."
While the names of exercises are silly, the circuit-style training is anything but. After a short warm-up (The Primary), you hit the Campaign Trail, a series of stations pre-set for exercises like kettlebell swings (Swing States), sit-ups with oblique twists (Paul Ryan abs), and battle ropes swinging (Battle Ground). You spend 50 seconds at each station with only a 10-second break in between.
Want more political workout inspiration? Paul Ryan and these other celebrities are big fans of P90X.

PHOTO GALLERY
Celebrities Who Love P90X