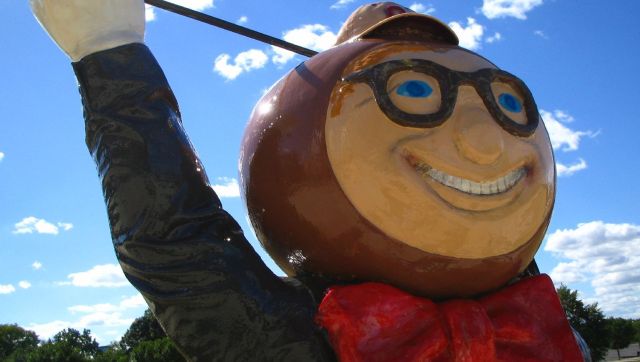 Ohio State President E. Gordon Gee, TIME's 2009 college president of the year and the highest paid college president in the country, has spent more than $64,000 on bow ties and related items since fall 2007, according to the Dayton Daily News.
Sure, he's natty (and a HuffPost College blogger in full disclosure) but the figure has raised eyebrows now that the university has complied with the newspaper's request for these documents nearly one year later. Ohio State says the bow ties are props or symbols of the university and its president who expenses a total of $7.7 million for that same period.
Ohio State spokesman Jim Lynch told The Daily News, "It's a nice icebreaker. The freshmen show up on campus and President Gee hands them a [bow tie] cookie. They love it. The students love it."
Bow tie-related items could include these crimson and gray cookies, bow tie pins and other objects shaped in the tie that's a symbol of Gee, who's looked more like the Buckeye in recent years (see photo). Lynch was quick to email USA Today clarifying the bow ties were not for Gee's neck but were bought for "charitable auctions and other non-personal uses."
But besides bow ties, The Daily News report details the parties, hotels, transportation and gifts that have become the cost of doing business for college presidents whose roles -- and expense accounts -- have resembled those of CEOs of major companies.
A statement from Ohio State defends the president's expenses, saying they are vigorously reviewed and in service to generating more resources for the university rather than draining what it has. It adds that the expense account is funded through gifts to the university rather than student tuition and fees, which have increased 13.6 percent since Gee returned to Ohio State as president after serving the same role at Brown University.
PHOTO GALLERY
The Highest Paid Public College Presidents In FY 2011
See our slideshow of the highest paid college presidents in fiscal year 2011 and this article with comments and criticism.