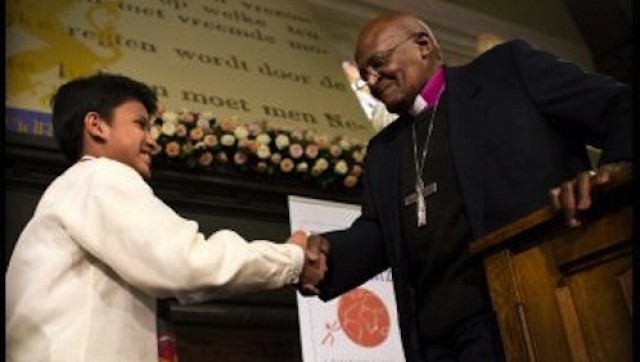 A homeless 13-year-old Filipino last week won a very prestigious award for his commitment to improving the lives of fellow street kids.
Business News Online reports that Cris "Kesz" Valdez, who lived off a trash dump and slept in an open tomb for the majority of his childhood, was awarded this year's International Children's Peace Prize in The Hague on September 19, receiving $130,000 in prize money.
"You are wonderful," Nobel Peace laureate Desmond Tutu, who awarded this year's prize, told the resilient teen.
Valdez survived by scavenging off a dumpsite since the age of two; he was viciously abused and was forced to seek help after he was badly injured, according to Global Post.
However, he had a remarkable idea to help other homeless children.
At the age of seven, Valdez founded "Championing Community Children," a charity that raises funds to hand out necessities to street kids in Cavite City.
GMA reported that Championing Community Children has handed out more than 5,000 gifts, including sandals, clothes, candy and toys, to poor children living in the slums around Manila.
To date, Valdez has been able to help more than 10,000 at-risk children, reports GMA News.
According to Business World Online, 246,000 Filipino street children are subject to abuse, violence and child labor every day.
Valdez's message to children around the world: "Our health is our wealth! Being healthy will enable you to play, to think clearly, to get up and go to school and love the people around you in so many ways."

Most of the prize money will go directly into the charity. But Valdez hopes to someday realize his dreams of getting an education and becoming a doctor.
BEFORE YOU GO
PHOTO GALLERY
Ordinary Heroes, Extraordinary Courage