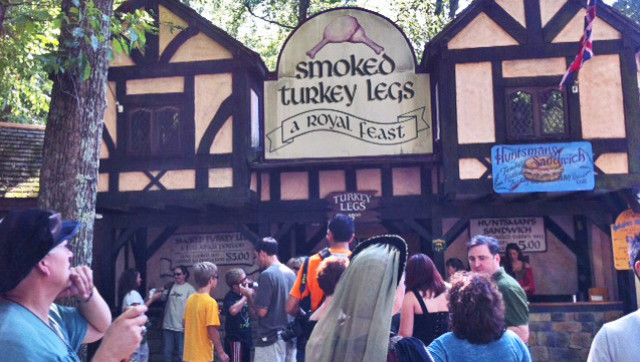 REVEL GROVE, Md. -- Step back in time to a 16th century English Tudor village, where maidens in low-cut dresses eat gigantic turkey legs, men wearing kilts eat cheesecake on a stick, and everyone uses banks of blue plastic privies while waiting for the catapult demonstration to begin.
The American Renaissance Faire phenomenon began in the 1960s in California. It's carried on with aplomb at the Maryland Renaissance Festival, said to be the country's second largest Ren Fest. The gathering -- featuring, among many other things, sword-swallowers, fans of sword swallowers, and shops that sell things like swords, as well as cheesecake on a stick and giant turkey legs -- will be held every weekend in Revels Grove, near Crownsville just outside Annapolis, until Oct. 21.
A digression: Cheesecake dates back to ancient Greece. Cheesecake on a stick dates back to 1986 -- here's the U.S. patent for this delicious dessert.
And while turkey was known to be eaten during Elizabethan times, turkey legs probably didn't have 1,100 calories each back then; even as recently as the early 1990s, when Disney introduced its humongous meaty treat, the legs were about 30 percent less jumbo than they are now.
M'lords and ladies, the food may be a-historical but it is delicious, and is still available for a few more weeks.
Here's a slideshow to whet your appetite:
PHOTO GALLERY
Maryland Renaissance Festival
BEFORE YOU GO