Excuse the cringeworthy SexyBack puns, but they're irresistible. Justin Timberlake's trying to bring Myspace back with a sleek and sexy new look.
A video preview of a redesign to the beleagured social network -- prominently featuring the singer and trying to channel his popularity -- was published on Myspace's website Tuesday. Timberlake is one of the principle financial backers of the group that purchased Myspace from News Corp. in 2011.
So what does the new Myspace look like? Not unlike Pinterest, based on our perusal: Posts are laid out in the gridded format that emphasizes large photo icons. Users can scroll through these posts horizontally, in contrast to the vertical scroll format used by many popular social networks.
Here's an example of a personal stream, where icons link to photos, videos or songs: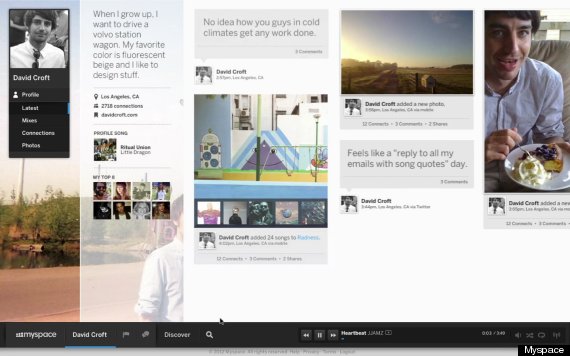 "[W]e're staying true to our roots in one important way — empowering people to express themselves however they want," the message accompanying the video at Myspace reads. "So whether you're a musician, photographer, filmmaker, designer or just a dedicated fan, we'd love for you to be a part of our brand new community."
Artists, in particular musicians, were among the first to pioneer the social network before it reached wide popularity -- and among the last to stay after Facebook overtook Myspace in unique visitors in 2008.
Image-heavy pages similar to the one above exist to showcase personal playlists, upcoming concerts and trending music news. There's even a nifty analytics page that lets those making films or music see the gender, age and geographic breakdowns of their audiences.
The business model that emerges is apparently this: Create the beautiful, image-heavy hub for musicians and other artists, and they'll share their work there like fashionistas and home-decor enthusiasts share on Pintererst. And in turn, music fans will follow.
Will it work? It's impossible to say, especially since we haven't used the site ourselves, but Justin Timberlake and co. can look to one encouraging statistic: According to Forbes, 60 percent of Myspace members in 2012 said they stay on the site in hopes of getting discovered.
Today, Myspace hopes more musicians rediscover it.
BEFORE YOU GO