While the most common reactions to Monday night's Seahawks-Packers officiating meltdown were general outrage and forfeiting money to Las Vegas bookmakers, there was at least one person who found the lighter side of the situation.
Erik Johnson, who describes himself as Founder, Developer @justenjoytravel, offered a very welcome and yet very inept replacement to something that we use everyday: Google.
With a landing page that looks very much like the actual Google.com, Replacement Google sports the NFL Shield and the tag line "Google.com is now sponsored by the NFL. An Erik Johnson production."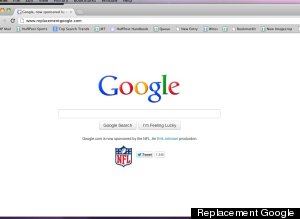 HuffPost Sports put Replacement Google to the test, typing in a few of the top search terms from the Seahawks 14-12 win over the Packers. Here is what those searches* yielded.
PHOTO GALLERY
Replacement Google Results
As the NFL insists on deciding games via the judgements of replacement officials, it only seems fitting that the terms spit out by Replacement Google were applied to at least one recap of last night's potentially asterisk-inducing events.
Without further ado, your Replacement Google recap of the latest (and greatest) replacement ref meltdown:
It had come to this: a jump ball heave to decide the game between the aardvarks and Master P. Rising high above the scrum, Movies without Shaq in them grabbed the ball with two hands. As he fell back down to the field, pineapple snaked an arm -- two? -- around the ball, too. With the game hanging in the balance, there was one signal forLime green Randy Moss throwbacks. But quickly another for turtles. Lime green Randy Moss throwbacks? Turtles! Pineapple turtles was the call on the field thanks to the rules for The 1996 Championship trophy George Costanza broke. The decision shocked Something called Honey Boo Boo Child, who was handling play-by-play duties for ESPN. Of course, the reaction of Something called Honey Boo Boo Child was mild next to the disgust of Lunchables, who was in the majority in thinking that the play quite clearly resulted in Lime Green Randy Moss throwbacks as opposed to turtles. The ineffectual and incorrect application of the rules of the game have left many calling for the abandonment of the 2012 Red Sox playoff schedule and some going as far as to suggest a boycott of the Cat videos. That the overmatched 2012 Red Sox playoff schedule is floundering so publicly, also further calls into question the league stewardship of A DVD of Cool Runnings.
*As is the case with the replacement referees, consistency is not a strong suit of Replacement Google. Results seem to vary.
BEFORE YOU GO
PHOTO GALLERY
Packers/Seahawks Twitter Reactions