Food Informants is a week-in-the-life series profiling fascinating people in the food world. We hope it will give you a first-hand look at the many different corners of the food industry. Know someone who would make a great Food Informant? Tell us why.
Carolyn Ottenheimer is the Chief Flavor Architect for Kettle Brand Chips in Salem, Oregon. She's responsible for developing and defining the flavor and quality attributes of all Kettle Brand products -- the base snack and the seasoning blends that are applied to the various flavors. She also defines the quality standards of all of the products and ensures that the process facilities have tools with which to monitor chip quality. She confirms that all of the products meet the claims that are being made on the packaging -- like "gluten free." Finally, she checks that production facilities have food safety programs.
Read Carolyn's diary below to learn the process behind Kettle Chips, before they hit the stores.
Monday, September 10
7:30am: Bruce Bechtel, director of marketing, arrives at my house for our carpool to work. There is something great about commuting with a colleague with whom you've worked for upwards of 12 years. We talk about the camping vacation he was on last week, and I share news from my recent trip to San Francisco. But this conversation is peppered with sidebars about running, my ankle rehabilitation, the next race, how long till ski season. It's a nice way to get to work.
9:00am: After making my to-do list for the day, I head out to the production floor to see how the chips are running. We are using a new tool that measures percentage salt to monitor seasoning quality on the chips. I change into my clogs and lab coat. All jewelry comes off. Hairnet on. Earplugs at the ready once I'm on the plant floor.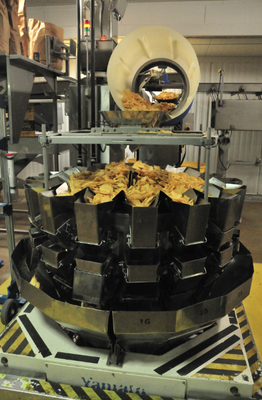 Upstairs on the seasoning deck we are running Sea Salt, Classic BBQ, Salt & Fresh Ground Pepper and Zesty Ranch -- all Krinkle Cut. We are running new crop potatoes; they are coming straight to the factory from the field in eastern Washington where they are dug out of the ground. The chips are displaying signs of heat necrosis -- a rusty brown blemish in the center of the chips. Our optical sorting machine, which takes a digital picture of the chips and throws the unacceptably dark ones off the line, is capable of removing most of these from the line -- the consumer doesn't mind a few, a little bit of uneven color is a desired attribute in Kettle Brand Chips. Larry and Tammy, two of our QA techs, are in the lab. Tammy's working with the new salt measurement tool and sampling the Classic BBQ and Salt & Fresh Ground Pepper during the test. I watch her perform 3 tests. The Classic BBQ is right on target for seasoning application. The Salt & Fresh Ground Pepper is too high. Tammy retests the sample. Still high. She gets on the radio to let the production supervisor know that the Salt & Fresh Ground Pepper is coming off the line over-seasoned.
1:30pm: All company quality cutting, aka: a comparative tasting against other batches of chips. We use this time to review chips produced from both facilities from the prior week's production. We have Krinkle Cut chips from both plants on the table today. All three samples of Beloit chips are Buffalo Bleu and Salem chips are Sea Salt, Cheddar & Sour Cream and Classic BBQ. Appearance of all chips is terrific. Seasoning levels are also good. The chief difference between samples today is texture. Salem chips have a harder texture than Beloit. We discuss differences in cook profile. Beloit's chips are cooking faster -- resulting in a less hard texture.
7:30pm: Home and exhausted. Tonight I will do the bare minimum before falling into bed. Today I was more tired than normal, I think because of a busy weekend and traveling three of the last four weeks. I sit down in front of the TV with my husband Tom, laptop is out so I can finish making notes on the day. We are both stuffed from dinner.
Tuesday, September 11
9:30am: Salem quality cutting. Today's samples are Honey Dijon and New York Cheddar originals and Hickory Honey BBQ Bakes. The appearance, crunch and seasoning application on the original chips is perfect. Our seasoning monitoring efforts are beginning to show. The seasoning on the Bakes product is looking a little spotty. We discuss upcoming Bakes consumer test and the opportunity to test live production samples vs. R&D samples. We also discuss crunch and the differences observed between the two plants in yesterday's cutting.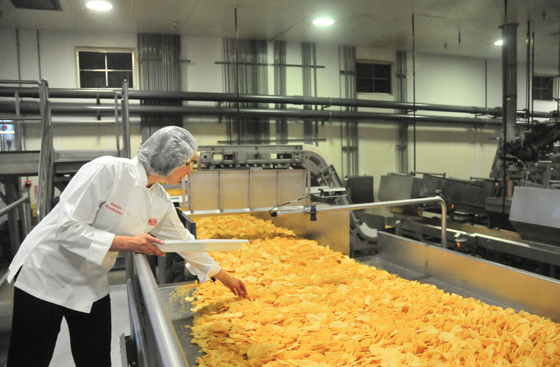 11:55am: Out the back door to run in the park across the street. There is a 1-mile loop through the park. Plan to do three laps running 70/30. That should give me time to get back and change before afternoon meetings start again. Running is an important part of my life balance equation, both for calorie management and stress relief. It has been a tough summer without a running outlet. Now that I'm back in my running shoes, I'm really enjoying the endorphins that come along with a run.
2:00pm: Our team has a meeting to review some new flavor prototype improvements since our last meeting. One of the flavors is particularly good, but our team can't figure out what to name it. It tastes like Thanksgiving in a bag. I take the leftovers from the meeting and will bring them to my physical therapist meeting later this afternoon.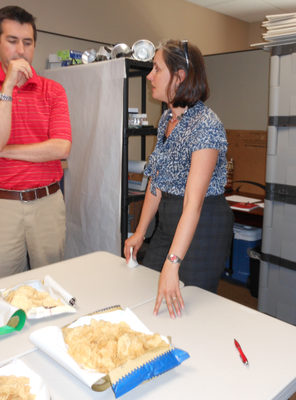 4:30pm: Conference call with PR company to discuss a media opportunity; we're planning an interview and photo shoot tomorrow.
5:30pm: Arrive at the physical therapist with a few bags of the new 30th Birthday flavors. I like to bring different prototypes of flavors we're working on to friends, family and people outside of the company to get a fresh perspective. The therapist is helping me with my ankle and core strength issues to alleviate running pain. It has been an arduous summer, but I am finally gaining mobility and have less pain.
Wednesday, September 12
8:00am: Busy morning! Today we're doing a shelf life tasting for a new flavor. One of our assistants drives to the Oregon State University in a Biobeetle to pick up the samples and bring them back to Salem. We store the chips in a 100 degree room in OSU's food science department to test how they hold up.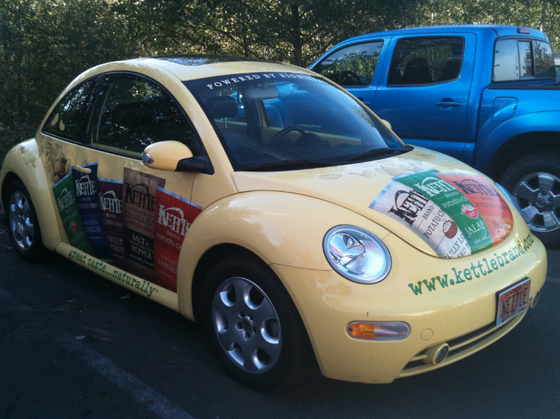 10:00am: After the shelf life test, we have a quick sample cutting session, trying the Nacho TIAS! as well as a new flavor prototype. I talk with Becky about what we need to include in the brief we're sending to suppliers so we can continue working on our non-GMO certification for our chips that use honey as an ingredient.
11:30am: The reporter arrives for the interview and photo shoot we've been prepping for; I take her through the facility and then we sit down in the conference room. We do a chip tasting and I take her through the flavor notes on each of the 30th Birthday flavors -- the Sirarcha and vinegar tang of Red Chili, creaminess of the jack cheese with green jalapeño notes the in the Jalapeño Jack chips, the sweet and smoky blend of Salsa with Mesquite and the smooth malty flavors of Cheddar Beer.
1:00pm: After the interview, I take the reporter outside to the wetlands next to Mill Creek. It's so quiet out here that we have a chance to take a walk around and chat some more.
3:15pm: I log into our guidance panel system to see the real time results from consumer testing that took place in Los Angeles today for the new Kettle Chip flavor we will launch next summer. We're testing six prototypes. It seems there is a very clear winner. Exciting stuff because this is one of the more unusual profiles we have worked on over the years.
3:40pm: Visit QA lab to see how seasoning measurement is going this week. The flavors running today are Sea Salt, Honey Dijon, Sea Salt & Vinegar and Sour Cream & Onion. Tastes like everything is seasoned well!
Thursday, September 13
8:45am: First order of business -- tomorrow's marketing and R&D foodie field trip outing to Portland. I have a few ideas of where I want to take the team based on a recent Bon Appétit article and Portland Monthly's 2011 Food Guide. I plug everything into Google Maps to figure out what makes the most sense logistically.
9:30am: Our daily Salem quality cutting. We are reviewing samples and salt measurement results to give everyone a chance to observe the changes we have made. The table is COVERED with samples -- at least 40. This is why I carry a cup around with me, so I can spit samples instead of needing a nap afterwards (and also so I can continue to fit into my clothes). We review samples of Krinkle Cut Salt & Fresh Ground Pepper, Sea Salt & Vinegar, Backyard BBQ, Krinkle Cut Classic BBQ, Bakes Hickory Honey BBQ, and Jalapeño. Everyone observes changes in the product as well as on the production line, and generally the changes are positive. It's great to see we are moving in the right direction!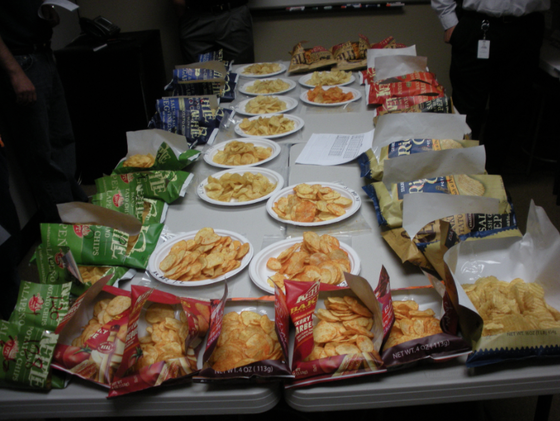 2:00pm: I have 1:1 meetings with Becky and Anna, individually. These are part of our annual performance evaluation process, which just started. I spend an hour with each of them and review their self-evaluations, a great chance for me to hear about their contributions, from their perspective. I am very proud to have these talented women on my team. Our department is small and we must work through others to achieve success.
Friday, September 14
9:00am: Becky, Anna and I meet with the sales and R&D technologists for one of our suppliers to review projects. We review current projects -- they are working on a product match so that we have a secondary supplier as well as new Kettle Brand Chip flavors for 2014. We also discuss the documentation necessary to support gluten-free and non-GMO claims. Finally, we discuss new projects that will be assigned next week....top secret!
10:00am: We drive to Portland for our team field trip. These trips are important for the team so that we can stay current of food trends through the sensory experience of eating and tasting new flavors and foods (tough job). It's also important for our own flavor innovation -- getting out of the office and experiencing new things makes it easier to come up with new ideas. First stop is New Seasons Market -- we buy sauces, chips and chocolate. Let the feasting begin!
11:15am: Next up is Foster and Dobbs -- we try decadent sea salts and a variety of different cheeses, along with a charcuterie plate. I order a ginger beer and it's delicious! The spiciness from the ginger tickles my nose.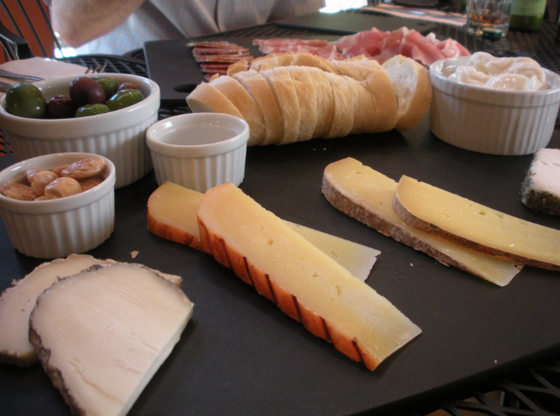 12:00pm: Lunch at Luce, which was featured as one of Bon Appetit's "Hot 10" best new restaurants. We have a half hour wait, but the food is well worth it. The homemade pastas taste as if they came right from grandma's kitchen in Italy. We order four pastas and six dishes of antipasti. By the end, we are all stuffed!
2:30pm: Alma Chocolate. With lunch taking longer than expected, we won't be able to make it to Whole Foods or Trader Joe's. Alma Chocolate is beautiful, with all kinds of cookies, truffles and drinking chocolates. We take a shot of pure chocolate and I have a piece of Thai peanut butter chocolate -- it's got sesame, peanut butter chocolate, ginger and chili rolled into a bite sized truffle! We're all exhausted and stuffed and it's time to head back to Salem before rush hour traffic hits.
See more Food Informants below:
PHOTO GALLERY
Food Informants