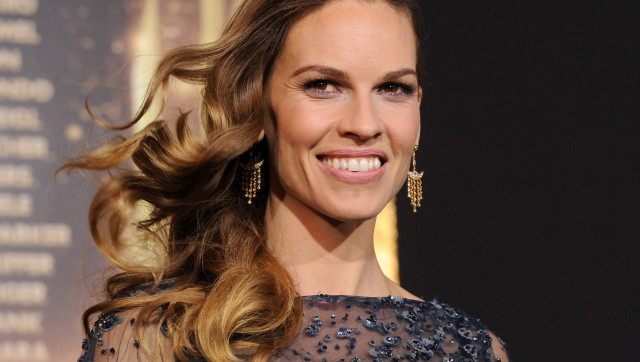 When Hilary Swank won an Oscar award for her performance in "Million Dollar Baby," she spoke of her humble beginnings during the acceptance speech.
"I don't know what I did in this life to deserve this," said Swank. "I'm just a girl from a trailer park who had a dream."
From the looks of Swank's recent real estate listing in Pacific Palisades, Calif., the Oscar-winning actress is far, far away from her trailer park roots. Swank listed her three story mansion Tuesday for $9,495,000, about five years after she bought it for $5,800,000.
Clocking in at 6,722 square feet of living space, the gated Mediterranean-style home has six bedrooms and 6.5 bathrooms, a surround sound theatre, wine cellar, gym, maid's quarters and a dining room that can seat 20 guests.
Outdoors, the one-third acre lot boasts a pool, spa, fire pit, outdoor dining area and "serene ocean views," according to the official listing with Myra Nourmand.
The celebrated actress was born in Lincoln, Neb. and grew up in a trailer park in Bellingham, Wash. When she was 16, she moved to Los Angeles, Calif. with her mom to become an actress, where they lived out of a car until they could afford an apartment. Her first movie role was a bit part in the 1992 film "Buffy The Vampire Slayer," and her first starring role was the fourth installment of the Karate Kid franchise: "The Next Karate Kid."
However, she's best known for the roles that landed her Oscar gold; Swank won awards for her 1999 portrayal of a transgender teen in "Boys Don't Cry" and as a small town waitress-turned boxer in the 2004 movie "Million Dollar Baby."
While it isn't clear why Swank is selling her home, celebrity real estate blogger Real Estalker notes that Swank bought the property in Mar. 2007, around the time she started seeing agent John Campisi. The pair split up back in May, and Swank's rep confirmed the breakup last month.
Swank's home is listed with Myra Nourmand of Nourmand & Associates. Photos courtesy of Realtor.com.
PHOTO GALLERY
Hilary Swank's Home
BEFORE YOU GO