Kate Middleton has another scandal on her hands.
The Duke and Duchess of Cambridge might be a little embarrassed after they accidentally wore traditional garb from the Cook Islands to an official Solomon Islands dinner during her and William's recent royal tour through Asia.
Before the couple's arrival, Clarence House and the islands committee agreed Prince William would be given a traditional shirt made by Solomon Island tailors for the evening, while Catherine would wear her own frock that she brought with her. (The royals' wardrobe is meticulously planned down to every detail when traveling.)
But according to Marie Claire UK, a member of the couple's official Solomon Islands welcoming committee went into the royals' room to add a few more gifts -- including a blue shirt and the pink dress from the Cook Islands, almost 3,000 miles away in the Pacific. Will and Kate then apparently thought THOSE clothes were the ones they were to don for the dinner, and the rest is history. (We assume everyone was too embarrassed or polite to tell them?)
The Independent prints a sharply pointed press release reportedly issued by the Solomon Islands' Government House that slams Kethie Sunders, the official who reportedly made the gaffe: "We are incredibly frustrated that this situation has come about and see Kethie as entirely to blame. It was completely inappropriate for her to go to Their Royal Highnesses' room, which she filled with various things, causing confusion."
Ouch. Seriously?
Clarence House released a gentler statement to the Daily Mail: "We saw they weren't the same design of the traditional clothes we were told would be gifted. So we checked with the Solomon Islands government to ensure the right ones were worn. We were reassured the clothes were correct, and so the Duke and Duchess wore them to the event. It was not learned until later in the evening that the clothes weren't from the islands. But it was understood that the Duke and Duchess intended to wear traditional Solomon Island clothes and this was appreciated. No offence was caused."
A survey just revealed that over seven million Brits have seen the Kate Middleton topless photos.
See Kate and William's controversial clothes below, and scroll down for more Kate pics!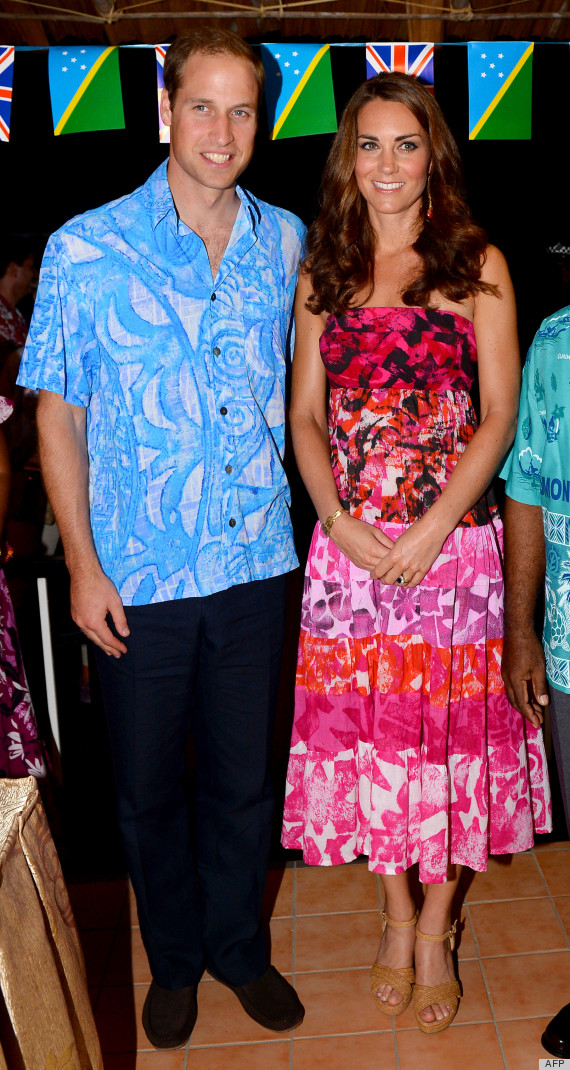 PHOTO GALLERY
The 70 Best Pictures Of Kate Middleton The Duchess Of Cambridge
Want more? Be sure to check out HuffPost Style on Twitter, Facebook, Tumblr and Pinterest.