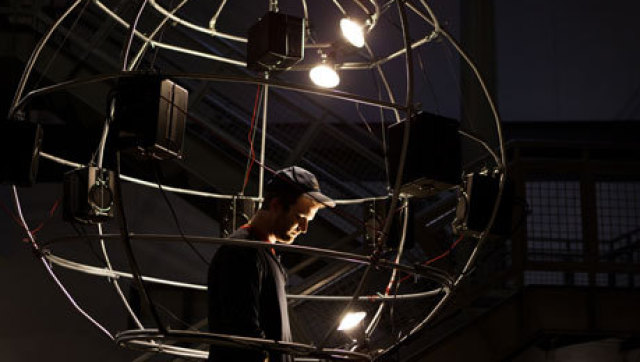 TOP 5 FOR WEDNESDAY, SEPTEMBER 26
1. Alex Braden: Orphan At Artisphere
This sound installation has us intrigued. Nine speakers playing nine different sounds surround the participant in a sphere. 4 p.m. to 11 p.m., all ages, no cover
2. The Circle At Dupont Circle
We recommended this piece when it was at Fringe. We're happy to see it return. Outside of a theater space, this performative audio-walk will now be staged throughout Dupont Circle. Bring your mp3 player, headphones and walking shoes. Turn your neighborhood into a theater. 8 p.m., all ages, $5
3. Hanggai At Millennium Stage
Enjoy some Chinese folk music after work. 6 p.m., all ages, no cover
4. Rock Is Dead! Burlesque Tribute To Dead Rock Stars At Red Palace
You'll know by the show title alone if this tongue-in-cheek event is for you. 9 p.m., 21+, $10
5. Comedy For The Cure At Touchdown
October is National Breast Cancer month. A few local comics are starting the awareness early. All donations will go toward the Susan G. Komen walks. 8 p.m., 21+, no cover but you should really donate
TOP 5 FOR THE NEXT 5 DAYS
Thursday, September 27
Molly Hagen at IOTA
The local singer-songwriter stands out in a sea of acoustic boredom. This full band show at a beautiful venue will make adults playing adult contemporary rock and roll sound like a good thing.
Friday, September 28
As Was Written at Lyceum
Poets, writers, comics and musicians will share the stage, trying to outdo each other with quality performance. A well-curated lineup of locals and former locals, this series has consistently grown for good reason.
Saturday, September 29
TNT! at Haydees
Our favorite soul dance party in a Latin American restaurant returns for their monthly engagement.
Sunday, September 30
"Amadeus" at National Gallery of Art
The director's cut of the 1984 Oscar winner for free in a beautiful museum. Sure, the Redskins game is on, but the refs are going to screw that up anyways. Replacement projectionists will not be ruining this Sunday tradition.
Monday, October 1
David Byrne in Conversation at National Museum of Natural History
If you weren't able to get tickets for the Bryne and St. Vincent show, how about a lecture? This is pretty much the same thing, right? His new book "How Music Works" actually looks pretty interesting.

BEFORE YOU GO