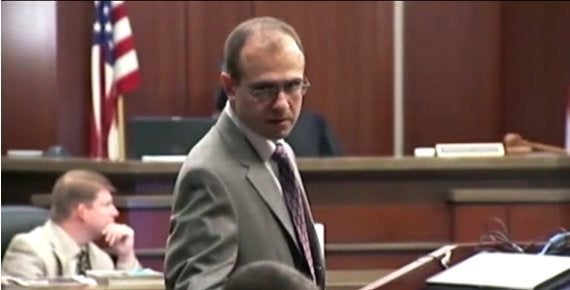 Murder suspect Waseem Daker had how-to books on killing when he was arrested for strangling Karmen Smith to death, prosecutors allege.
Before his most recent arrest in Marietta, Georgia, Daker had already spent 10 years in jail for stalking Smith's roommate, Loretta Spencer Blatz. Just before he went to jail on that conviction in 1996, he killed Smith and stabbed her then 5-year-old son Nick 18 times, as revenge for testifying against him, prosecutors allege.
On Monday, prosecutors revealed disturbing photographs allegedly owned by Daker depicting women in states of bondage and undress, as well as the books, The Marietta Daily Journal reported. The books contain sections on strangulation and torture. Some of the torture methods suggested in the book -- such as making small cuts to a victim's back to make them talk -- are consistent with Smith's injuries, prosecutors said.
During cross-examination, detectives said there's no evidence to support that Daker had the books before Smith's killing.
Daker has pleaded not guilty on all counts of murder, assault, stalking and burglary. He's also acting as his own council, which has drawn the ire of Judge Mary Staley several times. She nearly lost it when Daker grilled Blatz -- his former stalking victim -- on the stand.
"There are numerous occasions during the trial that your veracity has been in strong question by me. Strong!" she said, adding, "And you don't try cases by ambush."
BEFORE YOU GO