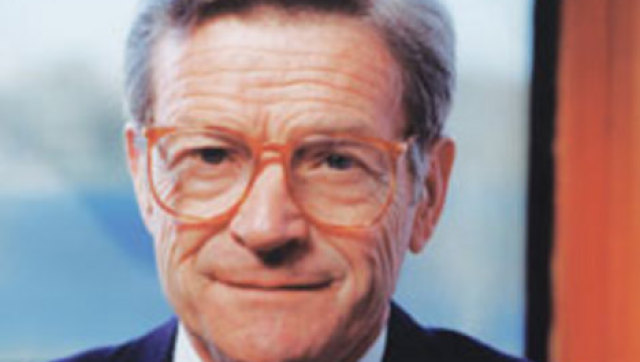 Longtime Boston University president and chancellor John Silber has died, according to a letter released to the BU community from current president Robert A. Brown. He was 86.
Silber took a leave of absence from the university and won the democratic nomination for governor of Massachusetts in 1990. He lost a close race to William Weld, who saw strength in his opponent and appointed Silber head of Massachusetts' Board of Education. He would build the MCAS, Massachusetts' standardized testing system. BU, however, remembers Silber as its philosopher president.
"John was mindful that universities are built to endure and that, to serve responsibly, their leaders must look well beyond the horizon of their own tenure and indeed their own lives," Brown writes.
Perhaps it was gradual effect of his long tenure that informed this approach. Silber was BU's president for 25 years, its chancellor for seven and its president emeritus from 2003 until his death. Brown said his influence will continue.
"We are forever in his debt," he writes.
In his letter, Brown describes a man who was prepared to die.
"In recent days, he invited many friends to his bedside where he said he good-byes and was, by all accounts, supremely lucid, wry and disposed to laughter, notwithstanding weakness and discomfort. John died in the loving circle of his family."
Silber's family gave no cause of death. The Republic notes he was battling liver disease.
While president, Silber was among the highest-paid in the country.
The Boston Globe notes:
The lavishness of Dr. Silber's compensation at BU was often noted by his critics. But it was his temperament that inspired the harshest criticism of him. To opponents, Dr. Silber was a tyrant and bully – "the meanest SOB on campus," Nora Ephron called him in a 1977 Esquire article -- who fostered a cult of personality at the nation's fourth-largest private university.
BU's endowment increased from $18.8 million to $430 million during his tenure.
In an interview with The Bridge, BU's weekly newspaper, Silber described the university at the time of his arrival.
When I came here, we didn't have a list of our alumni. We didn't have a balanced budget. We didn't have a computerized payroll system. We were raising only about $2.5 million a year. Back then, running Boston University was like trying to fly a 747 without avionics, without an instrument panel.
He considered his greatest contribution BU's resistance to pop-education, ideology and propaganda, according to the Globe.
According to BU Today
Silber is survived by six daughters, Rachel Devlin and Martha Hathaway, of Newton, Judith Ballan, of New York City, Alexandra Silber Mock, of Carlsbad, Calif., Ruth Belmonte, of State College, Pa., and Caroline Lavender, of Atlanta, a son, Charles Hiett, of Hot Springs, Ark., 24 grandchildren, and 3 great-grandchildren. He is also survived by his brother and sister-in-law, Paul and Phyllis Silber of San Antonio, TX; two nieces, and a great-niece and a great-nephew.
BEFORE YOU GO
PHOTO GALLERY
The Highest Paid Public College Presidents In FY 2011