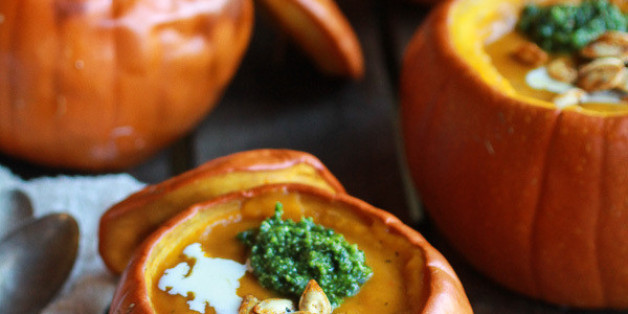 Had enough of pumpkin spice lattes? Join the club. Luckily there's a whole world of real pumpkin recipes out there that far outshines the latte craze. For starters, there are far superior pumpkin beverages out there, like bacon-flavored, pumpkin-spiced coffees or pumpkin pie smoothies. And of course there are endless ways to eat pumpkin for dessert. We're thinking pumpkin cheesecake, pumpkin whoopie pies, and naturally the iconic Thanksgiving dessert, good ol' pumpkin pie.
And then there's the savory stuff. While we wouldn't want to live in a world where these pumpkin dessert recipes didn't exist, sometimes savory, hearty pumpkin recipes are more what we're looking for. There's nothing like a homemade pumpkin ravioli to get you excited about fall, and nothing like a spicy pumpkin soup to warm you from the inside. (And hey, if you can get your hands on this one-ton pumpkin, you can eat all the ravioli and soup you want.)
Here are 39 savory ways to get your pumpkin fix that aren't in a latte:
Want to read more from HuffPost Taste? Follow us on Twitter, Facebook, Pinterest and Tumblr.