The 405 expansion project otherwise known as "Carmageddon 2" begins this Friday, Sept. 28. with ramp closures starting at 7 p.m. and lane closures starting at 10 p.m. By midnight, the I-405 freeway will be completely closed between the I-10 and U.S. 101 until Monday at 6 a.m., cutting off the biggest North-South artery in the city for 53 hours.
While officials are laying off the apocalyptic messaging this time, the 2012 closures could result in more congested traffic than last year. Contractors have to accomplish 30 percent more work in the same allotted time, and the closure's September timing means that UCLA students are back in town for school.
There are also several mass events around town, like a triathlon, Dodger games and concerts at the Hollywood Bowl that will result in either additional road closures or heavier surface street traffic.
Officials recommend using public transportation, walking or biking to eat, play and shop locally -- but if you must drive, here is the Carmageddon 2 schedule and alternate routes and maps that will help you plan your weekend.
Carmageddon 2 Schedule
Friday, Sept. 28
7 p.m.: ramps start closing
10 p.m.: freeway lanes start closing
Midnight: I-405 will be fully closed
Saturday - Sunday, Sept. 28-29
Monday, Oct. 1
5 a.m.: 405 re-opens
6 a.m.: ramps and connecters re-open
Local Alternate Routes
Sepulveda Blvd. will be open from the Valley to the Westside, which means drivers will have access to southbound 405 after the Getty Center entrance. However, Sepulveda Blvd. will only be intended for local access, and it isn't meant to serve as a detour for the 405.
Other canyon routes that connect LA to the Valley include Beverly Glen Blvd., Benedict Canyon, Coldwater Canyon and Laurel Canyon.
For freeway routes to Santa Monica, Orange County, LAX, Santa Barbara, the Valley and the Inland Empire, check out the map below. To see the routes in greater detail, click here [PDF].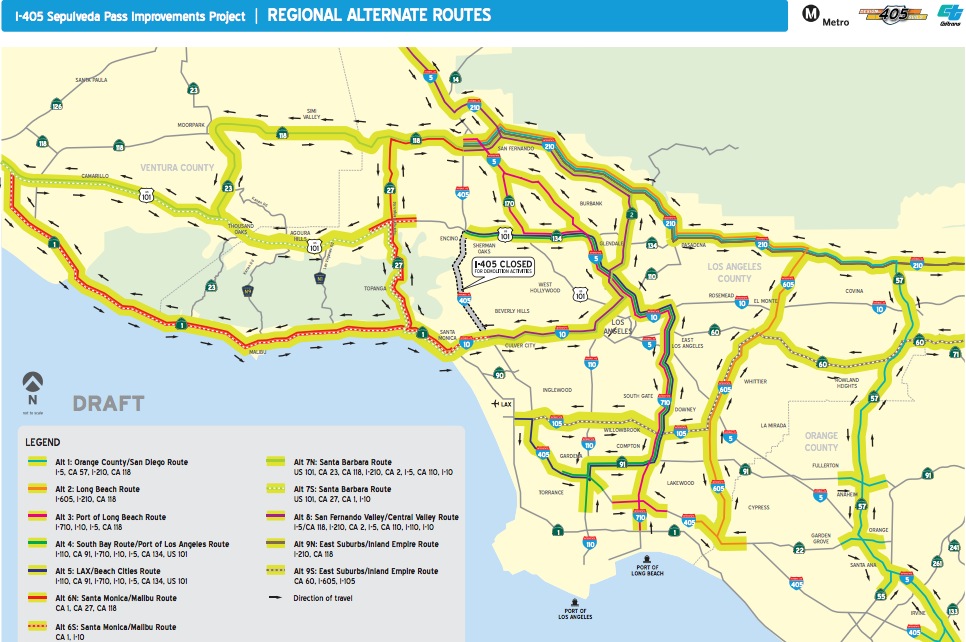 Map courtesy of Metro.
Highway Alternate Routes
Your first choice for an alternate highway route is US-101, from I-10 on the south and I-405 on the north.
The second option is to go even further east, going north and south on the I-5.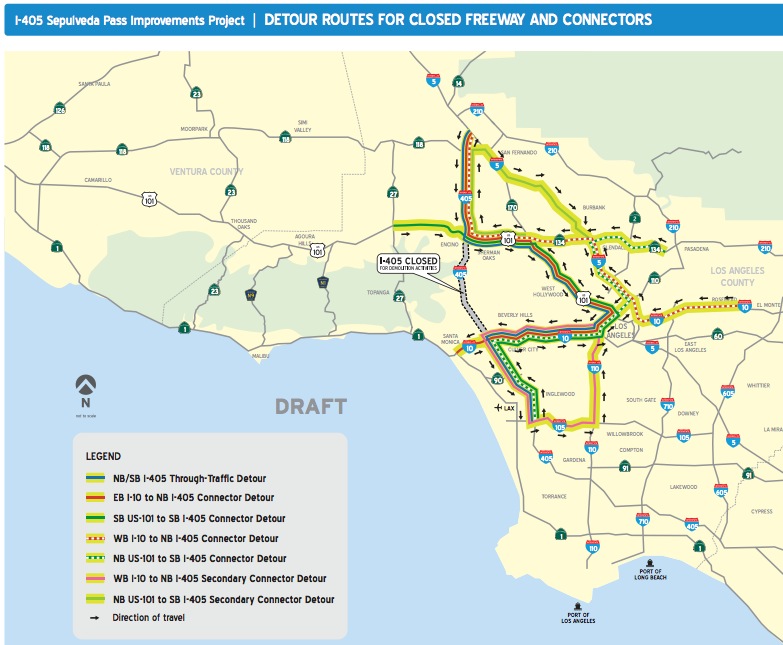 Map courtesy of Metro. To see the routes in greater detail, click here [PDF].
Here are the hard closures for Sunday's triathlon, and below is a map that shows several of the weekend activities that will impact local roads over the weekend.
Sunday: Hard closures for the Herbalife Triathlon (see official map here [PDF])
Venice Blvd. from the beach to Fairfax Ave. (approx. 6:50 a.m. to 11:15 a.m.)
Fairfax Ave. between Venice Blvd. and Olympic Blvd. (approx. 6:50 a.m. to 11:15 a.m.)
Olympic Blvd. from Fairfax Ave. to Flower and 11th Sts. (approx. 7:10 a.m. to 12:15 p.m.)
Grand Ave. between Flower and 11th Sts. to 1st St. (approx. 7:00 a.m. to 1:30 p.m.)
Potential Hot Spots (Click on the map to zoom in)
View Carmageddon II Weekend Closures in a larger map
BEFORE YOU GO
We've highlighted our favorite Carmageddon discounts and freebies in the slideshow below. Check out our picks and get some tips on how to treat yourself!
PHOTO GALLERY
Carmaeddon II Deals