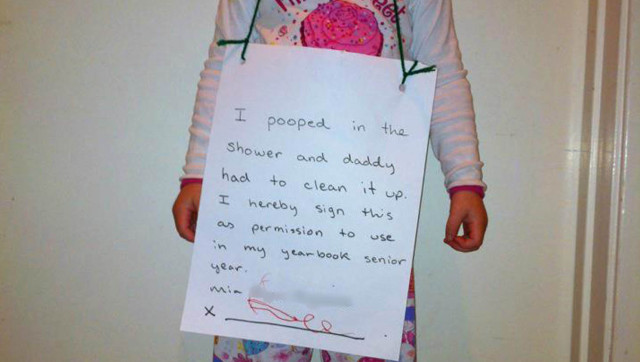 This little girl went to the bathroom in the shower. She's a toddler; it happens. Forgiven.
Her father even made light of the situation by placing a sign around her neck and taking a picture to remember the moment.
But what he did next angered some parents.
Instead of stowing the picture in a family photo album for future laughs, her dad, a Redditor by the username "jagknowny," posted the photo on a public image board on Reddit where anyone with a connection can share it.
SCROLL FOR PHOTO
And while some members of the community chuckled at the image, others disapproved and raised some concerns.

"You don't make a child tough and resilient by having her parents, who are meant to be the two people in the world she can trust absolutely, set out to embarrass her in the most public of settings. That makes a child insecure, because it teaches her she can't trust the people closest to her," wrote Redditor "likepix."
"[Young] kids don't really have enough sense to consent or understand the ramifications of something like this. This picture is digital, on the internet, and could embarrass her for the rest of her life," user "emperorOfTheUniverse" wrote.
Dad's comment: "She can sue me for 'defecation.'"
Public shaming seems to be somewhat of a trend among parents this year. Many notable cases involved incidents in which the child had done something truly wrong, such as stealing.
We've obscured the picture here, but you can " target="_hplink">click over to imgur to see what dad posted. What do you think of it? Share your thoughts in the comments below.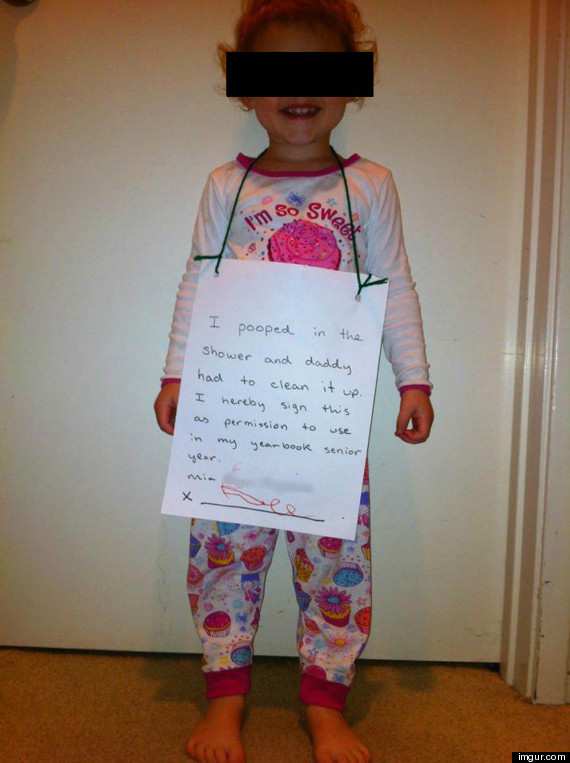 BEFORE YOU GO