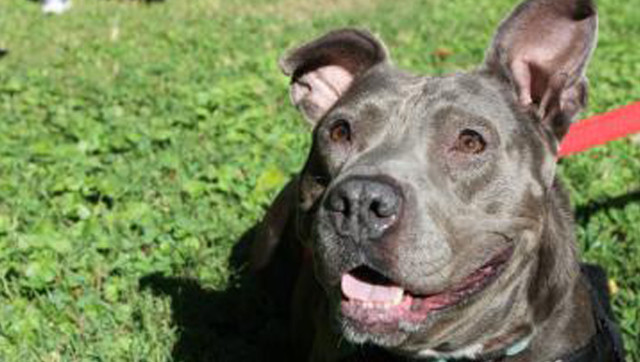 WASHINGTON -- Fall is a great time to go hiking with a new dog, adopted from a local shelter. Or to snuggle on the couch, feeding carrots to your new pet rabbit. Or rabbits -- we've got some single rabbits looking for new homes; there's also a pair, Pete and Repeat, to be adopted together.
This week's roundup of adoptable animals is full of bunnies and great cats and dogs. There's eight-year-old Shakespeare, a shy Chihuahua, and Lacey, that gorgeous pit bull in the photo up top. Perhaps the dog meant to share your adventures is Dim Sum, a four-year-old Shar Pei who lived in a puppy mill until recently. If cats are more to your liking, take a look at fluffy Zach Macaroni, sophisticated Ms. Callie and 11-year-old Amazon, who's looking for a quiet house where she can enjoy her dotage.
All we like better than fall weather and carrot-eating rabbits is hearing about our readers' new pets, so let us know if you bring home one of these gorgeous animals.
This week's adoptable animals come from the Washington Humane Society, the Washington Animal Rescue League and the Montgomery County Humane Society.
BEFORE YOU GO