A version of Francis Bacon's screaming pontiff is heading to Sotheby's New York this fall. The untitled "Pope" painting, created circa 1954 by the British figurative painter (no relation to that other Francis Bacon), is set for the bidding block after 40 years out of the public eye, and is expected to fetch $18 to $25 million.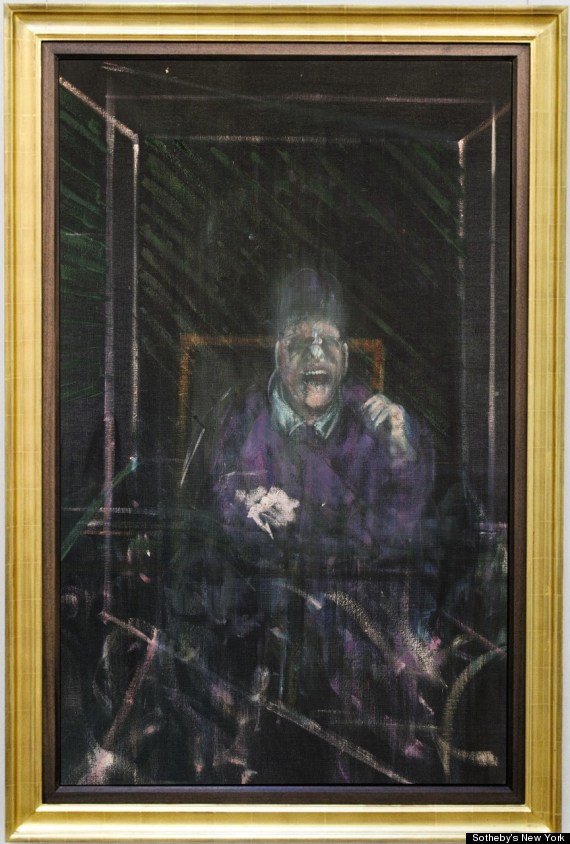 Francis Bacon, Untitled (Pope), Circa 1954, Est. $18/25 million, Sotheby's New York, Contemporary Art Evening Sale, 13 November 2012.
Bacon is known for his series of "Pope" paintings, which he created in the years following World War II. Including his "Study After Velazquez's Portrait of Pope Innocent X," the various works depict the Bishop of Rome sitting atop his papal throne with his mouth agape, seemingly writhing in a fit of terror while he remains obscured from view by swathes of paint streaking down the canvas.
As the title of Bacon's more famous version denotes, the series is based on a 1649 portrait of Pope Innocent X by Diego Velazquez. In contrast to the Spanish court painter's stoic portrayals, Bacon adds a signature scream inspired by film stills from Sergei Eisenstein's "The Battleship Potemkin" and a clenched fist taken from Edweard Muybridge's "Striking a Blow with the Right Hand" photograph, amounting to a collage of idiosyncrasies for Bacon to call his own.
This is the first time in nearly 40 years that this particular "Pope" painting will go on public exhibition, first at Sotheby's in Los Angeles beginning on September 27th and then in London on October 7th, followed by Doha in later autumn. The work will go on auction as part of Sotheby's Contemporary Art Evening Sale on November 13th, 2012.
Let us know what you know what you think of Bacon's terrified nuncio in the comments section. Check out a slideshow of more of Eisenstein's work, which proved to be a great influence on Bacon, in the slideshow below.
PHOTO GALLERY
Sergei Eisenstein
BEFORE YOU GO