What better way to liven up your rainy Friday than with a humorous Photoshop fail? This new image from Levi's, brought to you courtesy of Photoshop Disasters, doesn't actually look too wonky... until you scan your eyes downward and take a closer look at the model's legs.
Something is a little twisted out of place in the right leg, which seems to be extended backwards... yet is bent forward at the knee. We know models have basically superhuman bodies, but have you ever seen a model who could make her leg look like that? (Reminds us a bit of those Barbies where the plastic leg popped out at the knee joint...)
Now Levi's is no Victoria's Secret, who basically own the Photoshop fail game. Yet the famous denim brand has had a few run-ins with bad airbrushing before, like the time it left a stray, unattached foot (covered in a boot, luckily) sitting at the bottom of an ad or the time it didn't understand the law of reflection.
This one isn't as bad, we think, but there's still something fishy going on with that right knee.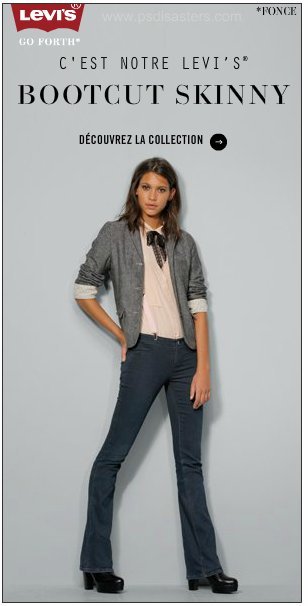 See more errors in airbrushing...
PHOTO GALLERY
When Photoshop Goes Wrong...
Want more? Be sure to check out HuffPost Style on Twitter, Facebook, Tumblr and Pinterest.