We knew LeBron James sometimes biked to work, but who figured Dwyane Wade would ever pop up in a Miami Critical Mass?
The Miami Heat star and his megawatt girlfriend Gabrielle Union were spotted in the middle of more than 2,000 normal sweaty Miamians on the huge community ride last night, which rolls en masse through the city for fun and awareness every last Friday of the month.
"Critical Mass. I like it," Wade told a rider who caught him on camera. "With the people, you know what I mean, riding through the streets — I like it. It's nice, man. I enjoyed it. This won't be my last ride. Gotta get another one."
Wade and his "bike crew" cycled with the regulars along the 12 mile course through Little Havana, Miracle Mile, Coral Way, and Brickell before ending at Downtown bar The Filling Station, which offered $3 beers to riders.
("Is that a Corona in [Gabrielle Union's] hand?" a Twitter follower asked. "Absolutely," the actress confirmed.)
Union promptly gave Critical Mass a new tagline, while Wade went straight to Instagram to show of his neon helmet: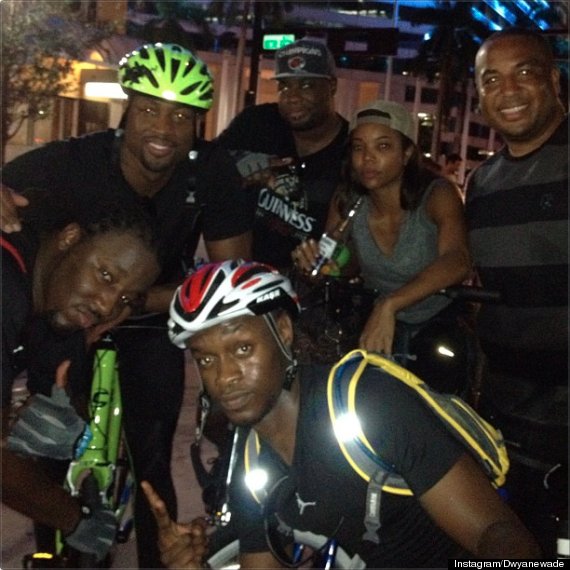 Of course, now that two-thirds of the Heat's Big Three have been spotted biking around, here's guessing Chris Bosh will be pressured into doing something normal Miamians do, too. We anxiously await his Twitter updates on flea market denim purchases or a press release on the travails of taking a shark on the Metrorail.
Riders Ivan Santiago and Kaylee Reyes snapped photos, too: