If the genius of Instragram had been discovered in imperial Russia, we imagine the result would have looked a little bit like this: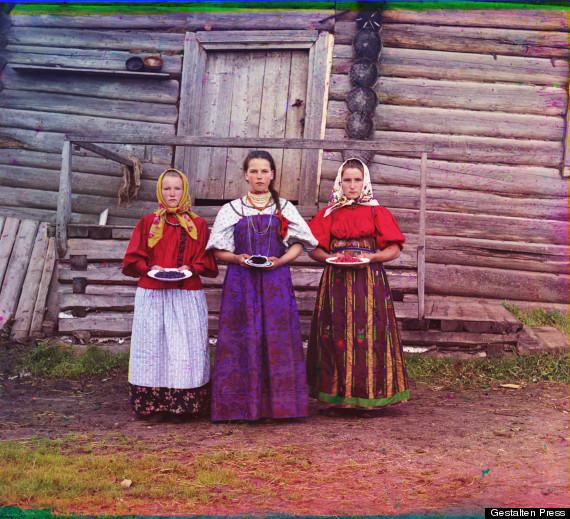 Peasant girls / Year: 1909 / © LOC
The saturated snapshot is the work of early 20th century photographer Sergei Prokudin-Gorskii. A pioneer of color imagery who worked his magic long before the advent of iOS friendly picture taking, the Russian photographer is the proud subject of a new book from Gestalten Press, titled "Nostalgia: The Russian Empire of Czar Nicholas." This is the first time that the images have been restored since being purchased by the United States Library of Congress in 1948.
The book is a collection of vintage photographs that recount the czarist-era artist's seminal project, which was undertaken in 1909. This six-year, cross-country expedition was an attempt to document the outer limits of Nicholas II's far-reaching empire -- a trip to capture the peoples and places east and west of the Urals using not an iPhone, but a cumbersome, oblong glass-plated camera.
The intrepid photographer explored the various communities via a train equipped with his own darkroom; on his journey, he captured shots of farmers, wealthy land owners, Don Cossacks and high-ranking emirs across the country. To achieve the super-saturated effects, Prokudin-Gorskii used just three color filters -- blue, green and red -- and a triple exposure method that superimposed the color spectrum onto a screen during the development process. It was not the most precise method of photography, but the imperfections left on the developed images transformed into gorgeous flickers of color.
The portraits and breathtaking landscapes, drenched in the magenta-purple hues Instagrammers can only dream of, are a rare chance to imagine the pre-Soviet years in all their multi-colored glory.
Scroll down for more of Prokudin-Gorskii's amazing photographs below, and let us know what you think of the images in the comments section.
PHOTO GALLERY
"Nostalgia"
"Nostalgia: The Russian Empire of Czar Nicholas" is available now through Gestalten Press.
BEFORE YOU GO