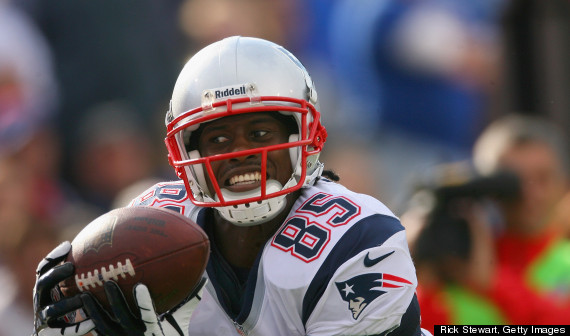 As if blowing a 21 to 7 lead to lose 58 to 28 wasn't embarrassing enough for the Bills, here's Patriots wide receiver Brandon Lloyd looking like the poster boy for scoring against the New York team.
Although, to be honest, Lloyd's only got the look; Sports Illustrated reports that Lloyd, New England's "most targeted receiver" hadn't found the end zone until this touchdown, his first score of the four-week NFL season.
And on the topic of honesty, one blown lead in the veritable galaxy of Buffalo Bills disappointment ain't worth half a Flutie flake. Still, it must hurt that Buffalo specializes in making the opposing team look good, even when it isn't.
Reddit got a hold of this photo of Brandon Lloyd and shot it to the top of the social news community's front page heat chart, with a comment trail that oozed sarcastic adoration.
"Number 85 on the field, number 1 in your heart," wrote user "SavinThatBacon."
This is the second tidbit of Pats media to make Reddit's front page today, with an angry Tom Brady GIF going viral earlier. (Warning: Explicit language follows.)
(via Reddit)
LOOK: Brandon Lloyd, Uncropped
BEFORE YOU GO