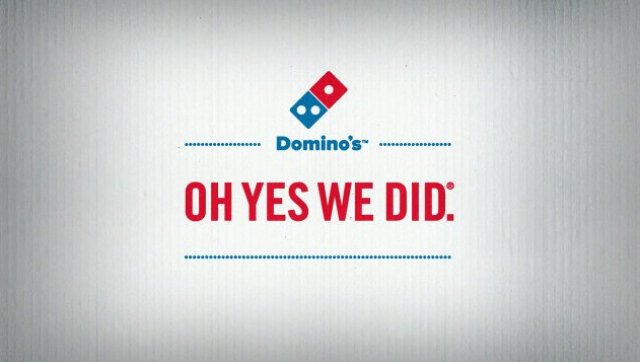 In its quest to make Domino's Pan Pizza king of the mountain, the chain has taken the gloves off. In its most recent ad for the new product, Domino's appears to take a swipe at Pizza Hut's frozen pan pizza dough.
"It's easier to do things faster and cheaper. We're not interested in that," snipes CEO Patrick Doyle, while he bangs a frozen disc of dough against his desk. Although they never call out Pizza Hut by name, it's pretty clear who the competition is.
CMO Kurt Kane told Advertising Age that Pizza Hut is certainly not sweating this newest ad campaign. "We are used to our competition following our lead, but consumers have proven time and time again that they will not settle for second best. In this case, it appears our competition is just trying to divert consumers' attention from a massive increase in their advertised prices. Our experience is that consumers are too smart to fall for that."
Business Insider reminds us of the pizza wars of 1997, "Pizza Hut president David Novak stood on the deck of a World War II aircraft carrier and declared 'war' on 'skimpy low-quality pizza' in a commercial by BBDO, New York. He was referring to another chain, Papa John's."
We're hesitant to declare all-out-pizza-war, but it sure seems like it's headed that way. Your move, frozen dough.
BEFORE YOU GO
PHOTO GALLERY
Best Pizza Restaurants