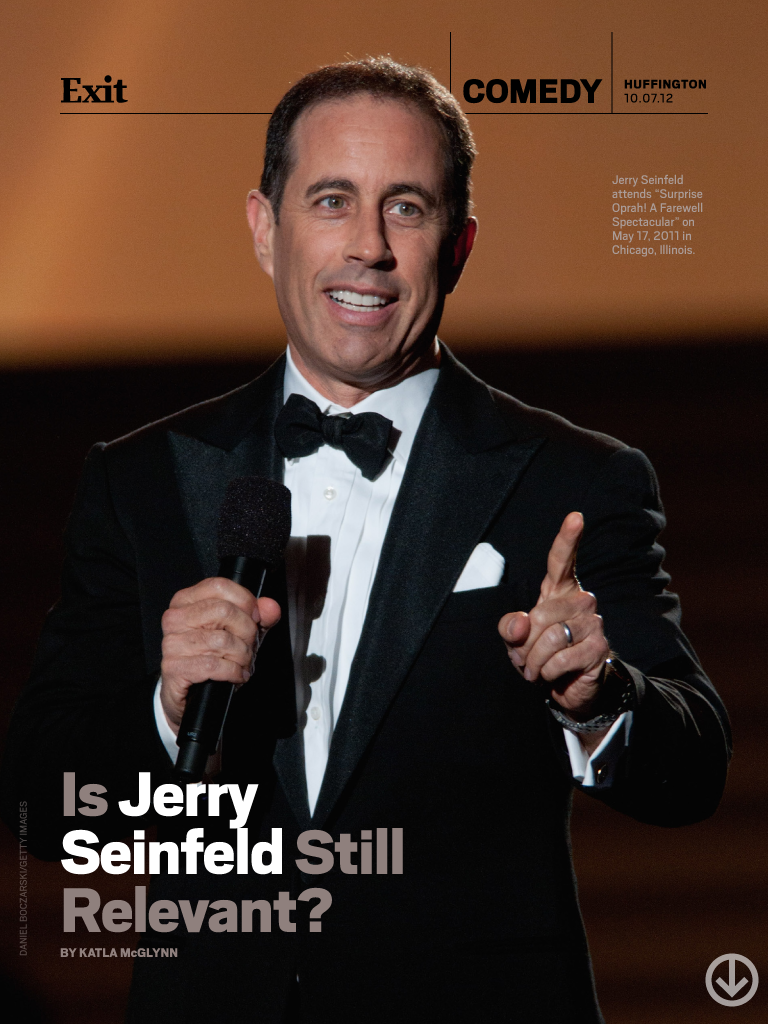 Fifteen years after he exited America's favorite comedy, Jerry Seinfeld is re-entering the comedy consciousness in the biggest way since the 2009 Seinfeld reunion episode of Curb Your Enthusiasm. Last month, his name haunted a three-episode arc on Louie, the old comic heavyweight challenging the modern comic heavyweight, Louis C.K. His new web series — Comedians in Cars Getting Coffee – ended its first season last week, just as he prepares to return to his roots: the comic, 58, is taking the stage this month for a comedy tour through New York City, hitting each of the five boroughs. It'll mark his first solo show in the city since he taped HBO's "I'm Telling You for the Last Time" in 1998, the same year he pulled the plug on his iconic sitcom.
Some are calling this Seinfeld's "second act." But if you look closely, it's all been part of the same act.
When Seinfeld disappeared in 1998, he left America in a feel-good era, hungry for more sublime chatter about nothing. September 11, 2001, was far away, the recession hadn't happened yet, George W. Bush was only in charge of Texas and color-coded terror charts didn't exist. In a way, it feels like Seinfeld didn't experience any of the trauma of the last 15 years. As he said on Late Night With Jimmy Fallon recently, he's lived on the Upper West Side for his entire adult life, only moving within a three-block radius.
We welcome him back not as a comedian whose material has gotten better with age — or one recovering from a period of decline — but as we would a 90s time capsule. There are no bad memories inside, Bee Movie and Marriage Ref now forgotten aberrations. It's a capsule filled with the good, old days of Seinfeld, which still makes us laugh like the first time on third, fourth, fifth viewings. Seinfeld managed to retain his relevancy simply by going away, letting us relive his mindlessly satisfying humor.
"Jerry Seinfeld is more or less the perfect mainstream comic," Leo Benedictus wrote in the Guardian. "He doesn't swear; he does not express political opinions... he is rarely topical, so his shows don't date." At a benefit show two years ago, he did 10 minutes of material on cell phones and bottled water. Cell phones and bottled water. And it was funny! His web series uses a modern medium to resume his timeless diner chats, taking you right back to Monk's coffee shop (and in a hackneyed way).
Perhaps the most telling instance of his relevance was on Louie, when C.K. and Seinfeld compete for David Letterman's job, and we see both the 90s star and the comedian du jour have what it takes. C.K. may not enjoy the level of fame he does in reality on his show, but the real-life parallels are hard to ignore: while Seinfeld exudes confidence and commands a $12 million price tag, a beleaguered C.K. — one of today's most popular comedians — is worth only $1 million to the network.
Humor stays popular when it continues to resonate with regular people, and Seinfeld is still that safe, familiar choice for Americans. However wealthy and sheltered his life has been, he's never stopped being the champion of comedy of the everyday. In an interview earlier this summer, Seinfeld lamented that he is constantly associated with "the little show about nothing" because that's not the way he looks at it: "To me these are great things and essential things. I'm very well-known as an obsessive of the minute, but it's not minute to me."
Cell phones. Bottled water. Can you think of two things more essential?
This story originally appeared in Huffington, in the iTunes App store.