HuffPost Italia has uncovered photos on Facebook in which Manfredi Alemanno, son of the mayor of Rome, is seen performing the fascist salute.
Gianni Alemanno, mayor of the Italian capital since 2008 and a former member of the neo-fascist party the Italian Social Movement (MSI), has been striving to distance himself from his extreme right-wing origins.
His son, on the other hand, may not feel the same way.
SCROLL DOWN FOR PHOTO.
The pictures were shot in Mykonos, Greece, where the 17-year-old spent part of his summer holiday. Six of his high school friends, with whom he shares an active membership to the extreme right-wing youth group "Blocco Studentesco," were with him.
Manfredi was photographed twice with his right arm extended, imitating the fascist salute. In one photo he's standing on a balcony, and in the other he is standing on an abandonned truck.
Both Facebook photos in which Manfredi was tagged have since been removed. According to HuffPost Italia, Manfredi has been advised in the past to be careful about the material he posts on Facebook.
His father, Gianni Alemanno, recently confirmed that he will run for reelection in 2013.
After HuffPost broke the story about his son, Alemanno reacted strongly, criticizing HuffPost Italia Editorial Director Lucia Annunziata for publishing the pictures.
"I will answer very clearly: my son made a mistake but Lucia Annunziata should be ashamed of herself (...) My son is only 17, and today his picture is in the media, violating every single right of minors, only because I am his father."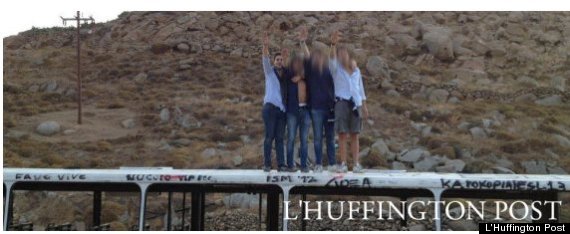 BEFORE YOU GO