Nakai, an 11-year-old male orca at SeaWorld San Diego, was injured recently in an incident involving two other whales during an evening performance at the Southern California amusement park. Tim Zimmerman, a correspondent for Outside magazine, first reported the injury, describing the serious gash as a "dinner plate-sized chunk of his lower mandible sheared off."
Following the report and gruesome photos of Nakai's injury, animal rights organization PETA filed a complaint against SeaWorld with the U.S. Department of Agriculture for violating the Animal Welfare Act. Under the legislation, which regulates the treatment of animals, SeaWorld is required to house orcas who are not compatible in separate spaces.
SCROLL DOWN FOR PHOTOS
SeaWorld released a statement Friday, explaining that Nakai sustained the injury during a Sept. 20 evening performance. However, the organization did not specify exactly how the injury occurred.
PETA holds that Nakai acquired the injury after an altercation with the other whales, according to TakePart.com.
Despite the large gash, the 11-year-old whale is said to be doing fine.
"Nakai is currently receiving antibiotics and the veterinarians are pleased with the healing progress of his wound,'' SeaWorld officials said in a statement, adding that he is "swimming comfortably and interacting with other killer whales."
This injury is not the first to mar SeaWorld's reputation. The theme park has been the target of a number of investigations following the 2010 death of SeaWorld trainer Dawn Brancheau at the hands of an orca named Tilikum who had been involved in two other human deaths.
In "Death at Sea World," a book released earlier this year, author David Kirby interviewed several former SeaWorld trainers, who detailed concerns about SeaWorld employee's safety and the mistreatment of animals. The accounts bordered on horrific, with claims that whales broke their teeth on metal gates, and trainers were required to remove the broken teeth with power drills.
PHOTOS:

(Image courtesy of Ingrid N. Visser, Ph.D./Orca Research Trust)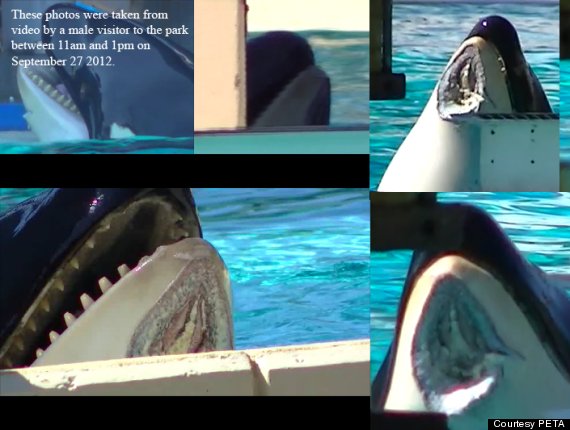 (Image courtesy of PETA)
BEFORE YOU GO
PHOTO GALLERY
Whales In Action