When you think about a celebrity and a hazy picture of them forms in the back of your mind, there is a pretty good chance that floating image was once snapped by Annie Leibovitz. A very naked John Lennon embracing Yoko... that's her. That "I'm grown up now" photo of Miley Cyrus wearing nothing but smudged lipstick and a bedsheet... that's her, too. Leibovitz documented the past 40 years of American life with the care of a devoted family member, in effect creating a national scrapbook of the people we talk about on and offscreen. The gifted photographer with Rock 'n' Roll roots turns 63 today.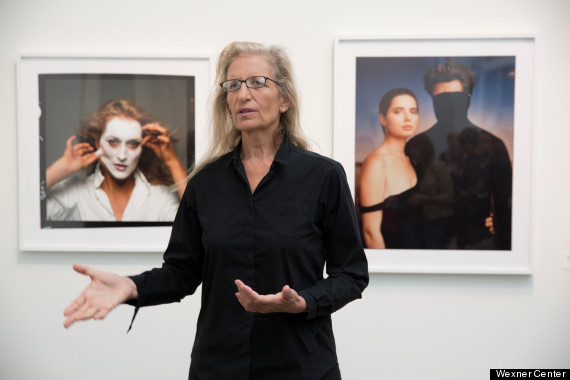 Annie Leibovitz at the Wexner Center for the Arts' press preview September 21. Photo by Kevin Fitzsimons/courtesy Wexner Center for the Arts.
Leibovitz got her start as a photojournalist for Rolling Stone in the 1970s, when she was still an art student at the San Francisco Art Institute. After Rolling Stone, Leibovitz photographed for Vanity Fair and Vogue, where she gained notoriety for her sharp eye and sharper wit, capturing a celebrity's essence with a single image. From nude Demi Moore clutching her pregnant stomach to Whoopi Goldberg sprawled in a bath full of milk, many of Leibovitz' images have become as iconic as the subjects they depict.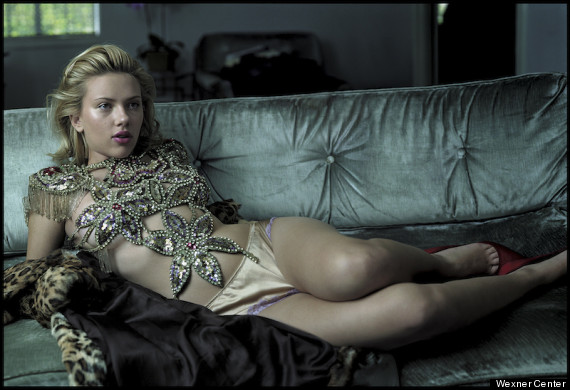 Scarlett Johansson, Los Angeles, 2004. © Annie Leibovitz
But before assuming starry-eyed Leibovitz is all about the A-listers, make sure to check out her photographs that don't grace the glossy pages of America's newsstands. This spring at the Smithsonian Leibovitz showed a collection of portraits depicting our country's past cultural icons, evoking their presences through the spaces they inhabited and the objects they cherished. The iconic photographer captured Sigmund Freud's couch, Emily Dickinson's dress and the water where Virginia Woolf drowned herself. Far from her spectacular celebrity portraits these intimate images showed Leibovitz' range in subject and ultimate ability to capture the essence of her subjects, whether physically present or not.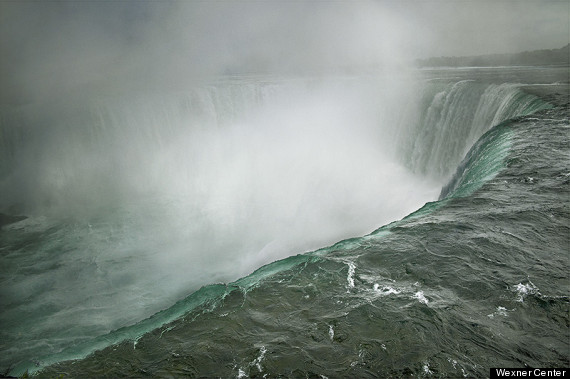 Niagara Falls, Ontario, Canada, 2009. © Annie Leibovitz. From "Pilgrimage" (Random House, 2011)
In her work, Leibovitz continues to combine history, humor and intoxicating style with ease. An expansive collection of her photography is currently on display at the Wexner Center for the Arts in Columbus, Ohio until December 30, 2012. The exhibition, which runs throughout all the art center's galleries, is composed of three parts. "Master Set" features 156 of Leibovitz' magazine spread celebrity portraits, all together for the first time. "Pilgrimage," the person-less portraits described above, are also on view as well as an intriguing artist series.
Happy Birthday, Annie! Thank you for making our country's family scrapbook a particularly stunning one.
BEFORE YOU GO