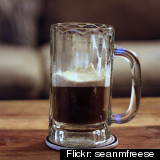 Whether in a float or going solo, we really love root beer.
Root beer's ingredient list can be a little dizzying. We are frequently amazed that anyone thought to combine that many roots, barks and spices for one, single beverage -- but we're sure glad they did.
Everyone has a favorite root beer, usually dating back to childhood preferences. But as you know from prior Deathmatches, choosing favorites can get a little tricky. Good luck, sarsaparilla lovers! It's time for the Root Beer Deathmatch.
Here's how the Root Beer Deathmatch voting will go down:
Round One voting opens today (October 2nd) -- vote right now!
Wednesday, October 3rd at 12:00am Eastern, Round Two begins.
Thursday, October 4th at 12:00am Eastern, you'll be able to vote in Round Three.
Friday morning, October 5th, we'll announce which root beer you think is the best of all.
*This is one of those times that we wished we could have more than eight bracket spots. If we missed your favorite root beer, don't forget to let us (and everyone else) know in the comments!
Want to read more from HuffPost Taste? Follow us on Twitter, Facebook, Pinterest and Tumblr.
BEFORE YOU GO
PHOTO GALLERY
Root Beer Taste Test