When it comes to controversial fashion, we try not to be too sensitive. But sometimes we can't believe what we're seeing.
While out and about in Los Angeles on Monday, Brenda Song (of "The Suite Life on Deck" fame, for those of you not up on your former Disney stars) chose a top that definitely merited a second look. The actress' tee depicted the word "OFFENDID" along with two F's arranged back to back, creating the optical illusion of a swastika.
Again, we don't like to nitpick, but wouldn't it be a good idea to steer completely clear from Nazi imagery if you're in the public eye? After all, Brenda just recently ended a pretty public relationship with Miley Cyrus' brother Trace, complete with a baby-bump watch and a broken engagement, so she hasn't been entirely out of the press since her Disney heyday.
More importantly, what exactly is the message? The shirt comes from the retailer UNIF, but it's hard to tell what exactly is meant to come across here. Take a look at the photo below and tell us what you think. Are you offended by Brenda's tee?
PHOTO: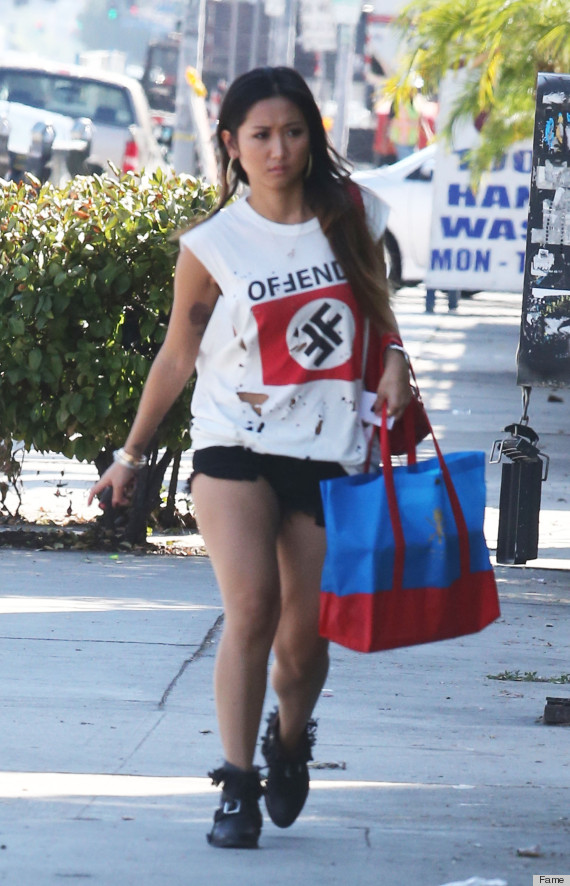 See more controversial fashion items!
PHOTO GALLERY
Controversial Products
Want more? Be sure to check out HuffPost Style on Twitter, Facebook, Tumblr and Pinterest.