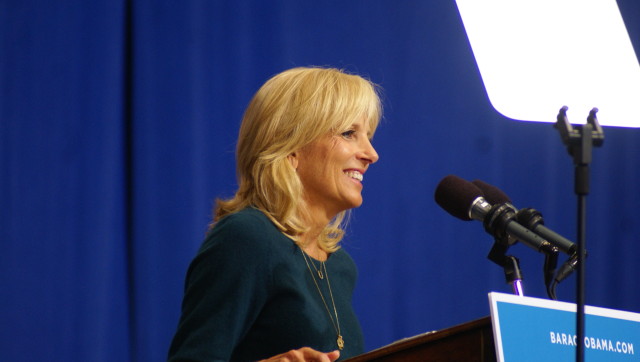 TOP 5 FOR TUESDAY, OCTOBER 2
1. Do The Write Thing At The Westin
This 826 fundraiser features Dr. Jill Biden and Dave Eggers. Feel good and meet interesting people. 6:30 p.m., all ages, $100 to $300
2. "Woody Guthrie: Hard Travelin" At Busboys And Poets
Woody would have been 100 this year. Celebrate the man that killed fascists with his guitar. 6 p.m., all ages, no cover
3. Handmade To Sell At The Fab Lab
The authors of "Handmade to Sell" want you to sell your crafts. Learn how to take the thing you made with a bird on it into the marketplace. 7 p.m., all ages, $5
4. The NOVA Alexandria Community Chorus At Rachel M. Schlesinger Concert Hall And Arts Center
This weather calls for beautiful and overwhelming sound in a large indoor theater. 7:30 p.m., all ages, donations requested
EVERYDAY IS HALLOWEEN PICK
5. Horror Movies At Comet Ping Pong
It's finally appropriate to watch the original "Halloween" with a crowd. 8 p.m., all ages, no cover
PHOTO GALLERY
826DC Museum of Unnatural History
TOP 5 FOR THE NEXT 5 DAYS
Wednesday, October 3
Phillies vs. Nationals at Nationals Park
Will Teddy win?
Thursday, October 4
The Walkmen at 9:30 Club
Indie rock for the well-aged hipster.
Friday, October 5
Jon Spencer Blues Explosion at U Street Music Hall
The Blues Explosion has delivered high energy white boy blues rock more than a decade before The White Stripes and The Black Keys. Right place, wrong time.
Saturday, October 6
Virgin FreeFest at Merriweather Post Pavilion
After the debacle at Radio City Music Hall, Jack White's headlining appearance has become a lot more exciting.
Sunday, October 7
Holly Golightly at IOTA
Speaking of Jack White, this British songstress helped close The White Stripes' "Elephant" with the duet "It's True That We Love One Another."
PHOTO GALLERY
Virgin Mobile FreeFest 2012
BEFORE YOU GO