The final "Twilight" poster has arrived.
After a day of teasing -- Summit Entertainment released pieces of the image over the last 24 hours -- the "Breaking Dawn Part 2" poster has been released, showing Edward, Bella and Jacob (that's Robert Pattinson, Kristen Stewart and Taylor Lautner to you non-Twi-hards) running toward their destiny. The tag line: "The Epic Finale That Will Live Forever."
"Breaking Dawn Part 2" focuses on Edward and Bella's row with the Volturi, the ruling vampire class who think the clandestine couple has turned their child Renesmee into a vampire. (That's a strict no-no in the vampire world; as Bella says in the "Breaking Dawn" trailer, however, Renesmee was "born, not bitten.")
"Breaking Dawn Part 2" is out in theaters on Nov. 16. For "Twilight" fans worried that Stewart and Pattinson will be kept apart during the press rounds for the film, there is some good news. Deadline.com reported that the actors -- who have had a rocky 2012 on the homefront -- will participate in the media push.
Check out the final poster below. (Click for bigger.)
[via Facebook]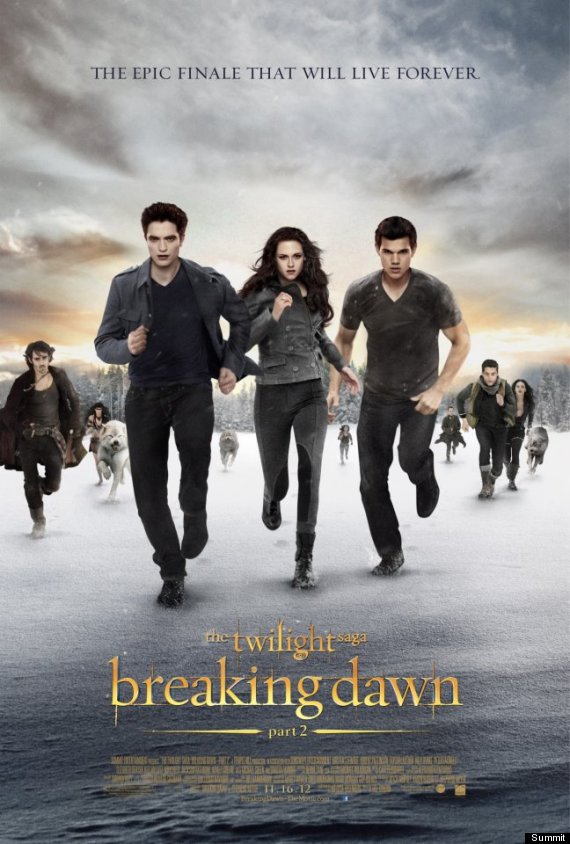 PHOTO GALLERY
'Breaking Dawn Part 2' Photos