If this photo doesn't bring back fond memories of 1998, then we don't know what will.
Remember when a 16-year-old Britney Spears took the music world by storm after she donned a sexy Catholic schoolgirl outfit in the video for her debut song, "...Baby One More Time"? Well, her sister Jamie Lynn Spears' daughter Maddie took us back in time and dressed up as her famous aunt for "Celebrity Day" at school.
Jamie Lynn posted a picture of her adorable daughter on Instagram today, writing, "Guess who Maddie want[ed] to [be] for Celebrity Day at school! #HomecomingWeek."
In the photo, Maddie is sporting pig tails with feather hair ties and bows, a checkered skirt, knee-high socks, a white tank top and even a cropped sweater. Of course, the 4-year-old didn't dress as risque as auntie Brit did in the music video, but she's still the spitting image of the pop star.
And let's not forget, Maddie did her own rendition of Britney's song "Up And Down" just last summer. She must be her biggest fan!
Check out the photos of Maddie below: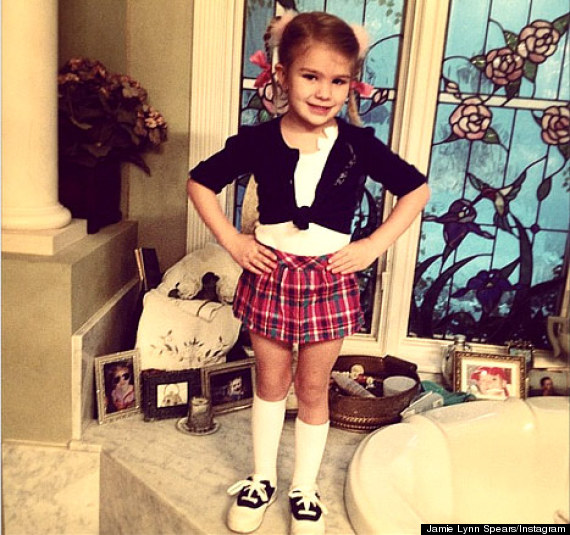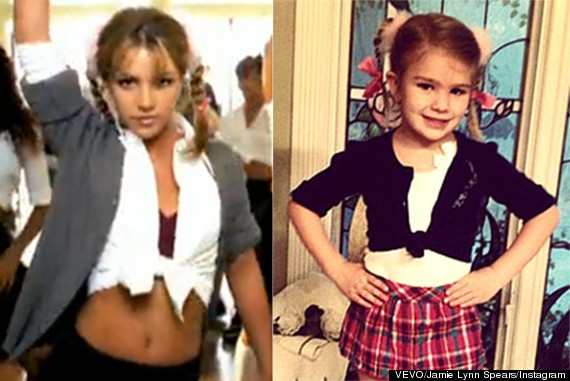 BEFORE YOU GO
PHOTO GALLERY
Britney Spears Through The Years