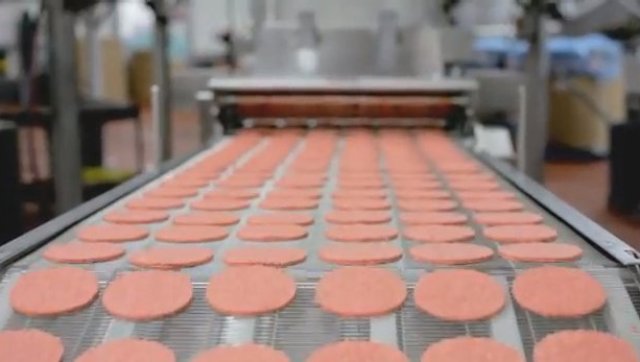 McDonald's Canada continues its bizarre transparency quest with a video that shows us how the chain's burgers get made. This video appears to be a direct result of being asked over and over again whether the burgers are washed in ammonia, or the result of a whole cow being chucked into a meat grinder, bones and all. We didn't make these questions up, we promise.
It's worth noting that Supply Chain SVP Dan Kroll, the lucky guy picked to shoot a video in a Cargill meat processing plant, does not reference the quality or provenance of the beef. McDonald's just wants you to know that beef is all that goes into these things.
This meat-processing footage is not particularly appetizing, but at least things look clean and orderly.
McDonald's Canada has continued to hit this transparency campaign hard, even tackling the urban legend that a McDonald's burger left out for days will never rot. The short answer is that a McDonald's burger will only rot under certain conditions because food needs moisture to rot.
Does this make us want to eat a hamburger right now? No. But it does make us feel less like McDonald's is pumping its burgers full of preservatives. Business Insider reminded us of A Hamburger Today's experiment, which proves that under certain conditions, even a homemade hamburger will never decompose.
The questions really just keep coming on Our Food. Your Questions. (McDonald's Canada's ask-us-anything PR site). One of our favorites so far comes from Jamie G. of Abbotsford, BC who asked, "Is it true your meat is made from prehistoric dinosaurs?"
McDonald's proved that they will literally answer any question you ask them by saying:
Hi Jamie. The last of the dinosaurs became extinct approximately 65 million years ago. The first McDonald's restaurant opened in 1955. We prefer to serve meat far fresher than that.
We have to admit that their PR peoples' sense of humor is growing on us. Is anyone else wondering when McDonald's U.S. is going to step up to the plate?

BEFORE YOU GO
PHOTO GALLERY
2011's Top 10 Fast Food Chains (By Total U.S. Sales)