An anti-Obama sign posted next to a busy road in Albany, Georgia suggests the president is a "threat."
The banner, owned by Richard Thomas, reads: "The seals removed one threat to America, remove the other in November."
(See the sign below)
Thomas told WALB he placed the banner outside his business because it "just made the hair on the back of my neck stand up," but denied that the sign compared Obama to Osama bin Laden.
"The threat is towards the apathy that [Obama] has created in this country by dividing people and the loss of hope," Thomas said. "Those [Navy SEALs] are putting their life on the line everyday and the least we can do is get out and vote and choose a good leader for them."
One local told WALB he thinks the sign is "disrespectful." Thomas maintained that the banner was "not intentionally" unethical.
A similar sign that popped up in Indiana in mid-August, when a billboard funded by a Tea Party group shared the same message. Locals called the billboard "ignorant," "out of line" and "pretty bad."
Other anti-Obama displays have popped up in recent days, including several "lynched" empty chairs in Virginia and Texas. The displays are a reference to Clint Eastwood's bizarre speech at the 2012 Republican National Convention, in which he spoke to an empty chair and pretended it was the president.
Below, the anti-Obama sign: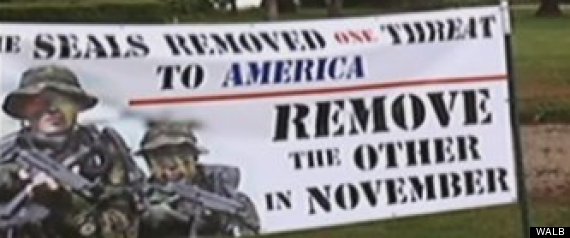 (h/t Ashton Pellom, WALB)
BEFORE YOU GO
PHOTO GALLERY
Barack Obama's Greatest Hits