When Ian Spanier was six years old, back in his hometown of Hastings, New York, his parents handed him his first camera. Since then, he's taken his lens out for sports stars, supermodels and celebrities like Kim Kardashian and Steven Taylor. Coming from a modest locale like Hastings, Spanier could be considered a hometown hero in his own right, but his most recent work tells us that he's not so concerned with personal recognition. He'd rather pay homage to those he considers heroes: volunteer firefighters. Recently, he returned to Hastings to do just that.
His images of local champions are the subject of a recent photo essay in Huffington. Volunteer firefighting departments face issues of waning membership, lack of funding, lost (and fulfilled) childhood firefighting dreams, risk, rescue, and the bonds of brotherhood that run deep in pro-bono emergency worker circles. Spanier's view into this world landed him a book deal, Local Heroes: Portraits of American Volunteer Firefighters, out this fall, which includes images of volunteers in Sparta, Georgia, Sea Ranch, California and Sunshine, Colorado where many firefighters lost their own homes defending the homes of their neighbors.
"We shot the members on the still burnt-out mountainside and the emotions were still very raw," Spanier told the Huffington Post. "These are everyday Joes and Janes that put their own lives on the line, with no pay, and very little recognition outside of a couple parades (if that), and no desire to be honored. These are a special bunch, and we wanted to recognize them."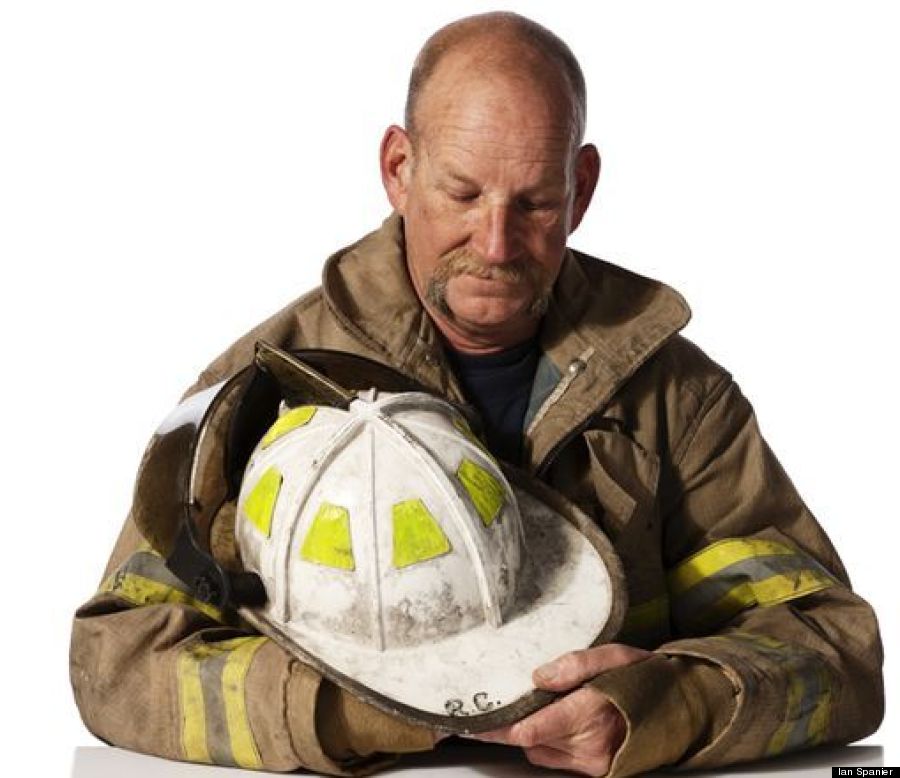 What led you to document volunteer fighters?
I had a conversation with my friend, Florian Bachleda, Fast Company's Creative Director, about doing a project to pay homage to some everyday heroes. I recalled a childhood friend, Tommy Drake, was a member of my hometown's volunteer fire department and gave him a call to see if he knew anyone there. As it turned out, Tommy is now the first Leutentant of the very same department. I explained what we wanted to do, and he loved the idea. Florian and I drove up to Hastings to make some portraits. There we met one member named Marek Fuchs, a former NY Times writer, who quickly offered to help write the interviews.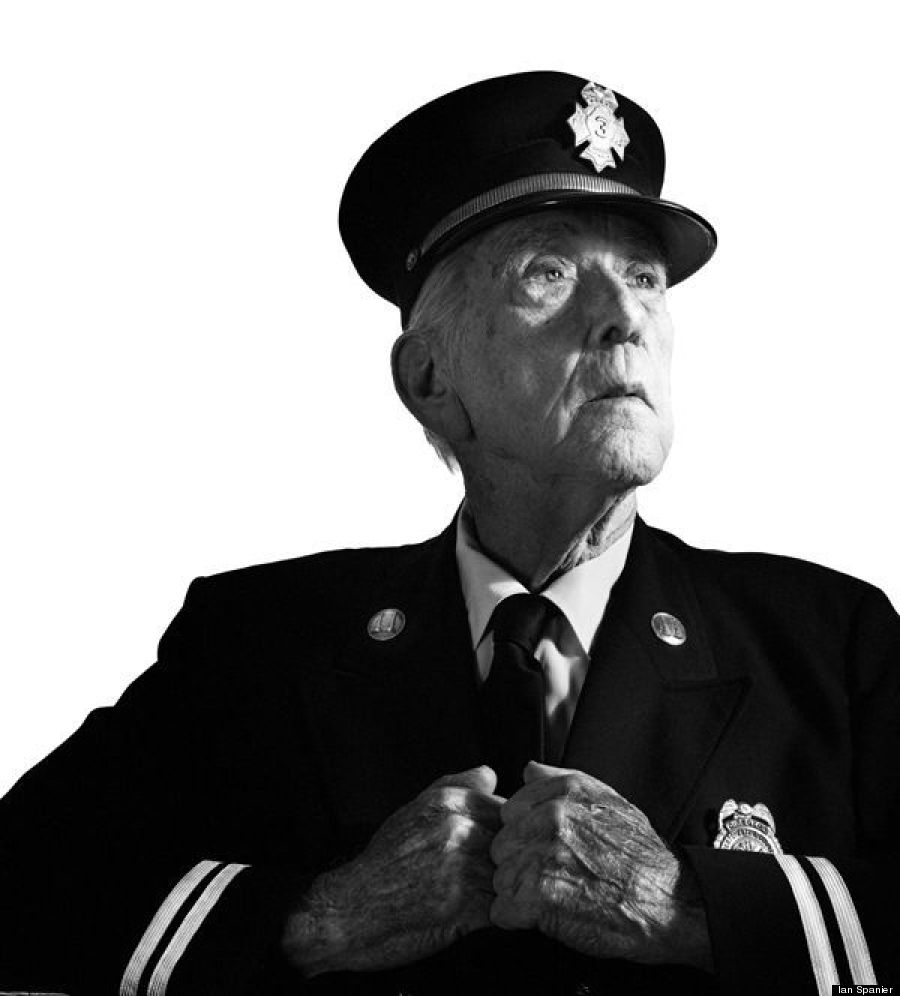 What's his story?
Gerry Seager. This is one of my favorite portraits. I grew up a few houses down from him. He did not want to be photographed. Thankfully my friend Tommy talked him into it. A WWII veteran of both the European and Pacific theaters, he was a gruff, whisky-drinking, cigarette smoking hard-ass. Gerry had taken young Tommy under his wing when Tommy's father passed away. Gerry had been ill. I was sad to learn he passed away soon after the portrait was made.
If you had to offer an aspiring photographer one piece of advice, what would it be?
I've always loved the response by my mentor, the legendary Harry Benson, who said, "Go buy a guitar." When asked that I advise to shoot, shoot, shoot, and learn about the business. It's not just about taking good pictures; if you can't run your business, you won't have one.
You once photographed the cast of Jersey Shore. What was that like?
Twice actually! First time was in Italy as they finalized their abroad season. It was my first big assignment for MTV and Italy presents many challenges. We lost an hour and a half in one of our set-ups because we couldn't get permission to drop our gear to the next location, even though delivery trucks were dropping off various deliveries right where we were. It's a very confusing and corrupt place, we worked around the pitfalls and our shoot ended with me convincing the cast at the end of a very long day to run down an alley as if they were being chased by the paparazzi. They loved it.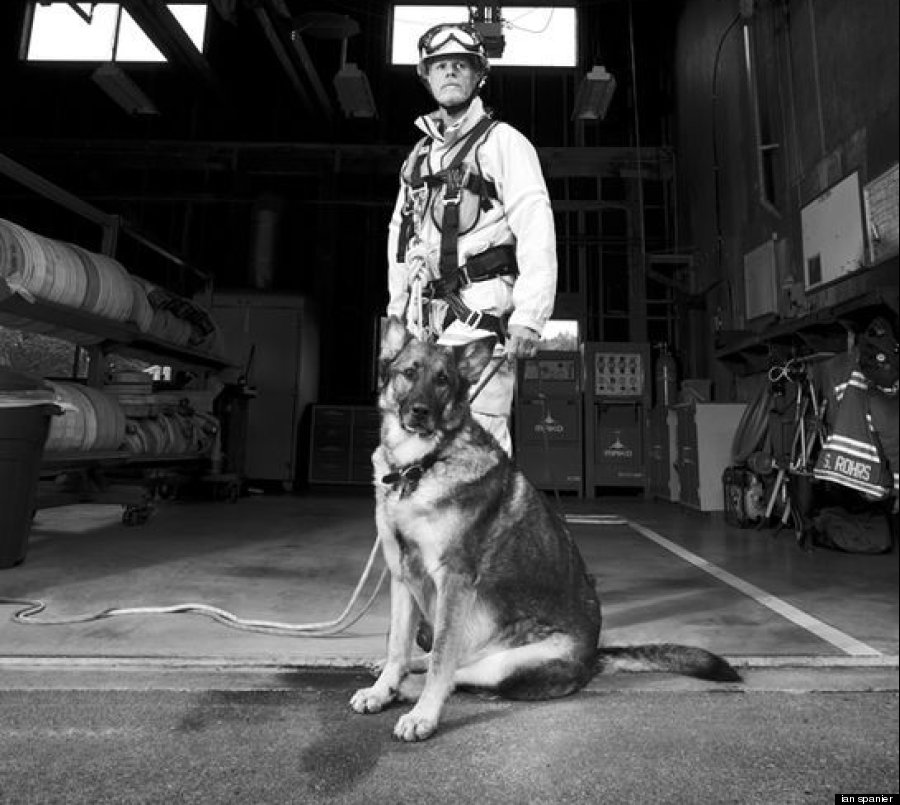 Can you talk more about how this photograph came about?
Michael Scott is the Chief of the Sea Ranch Volunteer Department. As host for the day, he was integral to making this project happen. Chief Scott was the last of the members of the department to be photographed that day, and his dog Max was with us the whole time. It just didn't make sense to photograph the Chief without his companion.
What was your most memorable shoot?
There wasn't just one. Outside of Gerry it was probably Robert Allison from Sparta. A reformed "hell-raiser", Robert had straightened himself out when his son was born. Known around the house for his toughness and grit, but he had a soft spot underneath that hard exterior. One night, Allison's son was partying and Allison got a call that his boy had stopped breathing. He administered CPR but could not revive him. He lost his son. As a tribute, he carved his son's initials "RC" into his helmet. We asked him to hold his helmet for his portrait, not knowing about the initials. Robert looked at them and a stillness set in, you could literally feel his emotions all around us.
Download the latest issue of Huffington free in the Apple iTunes store every Friday and follow us on Facebook.