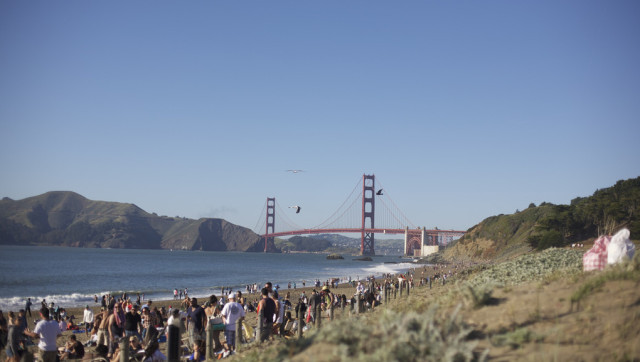 San Francisco, it's hot outside.
We know, we know, this happens every year in late September/early October. "You must be new in town if you think this is a big deal."
We know, we know, global warming and The Big Earthquake and what about that heat wave 23 years ago that leaves this one in the dust?
But for the second night in a row, we had the privilege of hanging out on the patio at Zeitgeist and climbing to the top of Twin Peaks to look at the full moon--while leaving our layers at home. The bay is sparkling and the skyline is shining. It's the warmest we remember it being in a while. And we have no problem soaking in San Francisco's splendor for a few sacred days.
Tuesday's conditions promise to be equally lovely, sunny and clear and hitting 86 degrees. Looks like the spell will be broken just in time for Hardly Strictly Bluegrass and Fleet Weekend.
In the mean time, what are you waiting for? Cash in on a long-awaited personal day, linger over lunch in one of our beautiful open spaces, take the scenic route home and spend a little more time outside in the dark. All while eating lots and lots of ice cream.
(PS: Try as we might, we have yet to find a reliable source that proves the term "Indian Summer" is racist.)
Check out a few of our favorite spots to enjoy the sun below -- there's still time to go out and play! Kindly remember to spare the air while you're at it.
PHOTO GALLERY
Warm Weather Hangouts
BEFORE YOU GO