WASHINGTON -- Most of the signs in the windows of Paulette and Kelly Camp's gas station in tiny Waynesville, N.C. say about what you'd expect them to: "Firewood 4 Sale." "Buy Your Prepaid Here!" "No Public Restroom." But one stands out: "Register To Vote Here."
The Camps are dispensing voter registration forms along with lottery tickets, cigarettes and candy to interested customers who stop by their store in the heart of the Smoky Mountains. Visitors often begin talking about politics when they see a photo of the Camps with President Barack Obama and first lady Michelle Obama hanging proudly by the counter, taken when the couple met the Obamas in Ohio after winning a contest.
"People start looking at the pictures, and then their eyes will land on that picture of us with the Obamas, and they'll say, 'Oh my gosh, how did that happen? How did you get to do this?' So I'll just say, 'Are you registered to vote?'" Paulette Camp told The Huffington Post, stressing that she encourages anyone, regardless of political leanings, to register.
Often, potential voters are simply confused about what sort of documentation is required to vote, Camp said.
"Everyone who comes in says, 'What do I have to have?' Do I have to have a driver's license?' They're hearing that you have to have all these identifications," Camp said. "They say, 'Do I have to have my Social Security card? I don't even know where it is.'" Camp tells them that the form is very simple and doesn't require complicated forms of photo ID.
Paulette's interaction with her customers demonstrates in microcosm what Democrats are worried about on a larger scale: that media reports on potential restrictions on voter access -- especially ones that have been resolved -- could end up depressing turnout from voters who would otherwise have no issues casting their ballots.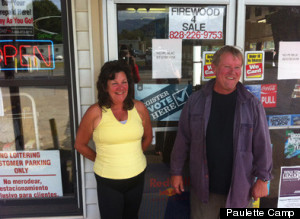 Paulette and Kelly Camp in front of their store.
In fact, courts have halted attempts by GOP governors, legislators and secretaries of state to change long-established voting procedures -- whether by requiring photo ID at the polls or shortening registration timelines -- in time for the 2012 elections. Republicans have lost court cases in every major swing state that passed such voter suppression laws since 2010 -- Florida, Ohio, Wisconsin and now Pennsylvania
On Tuesday, Commonwealth Court Judge Robert Simpson postponed enforcement of the state's voter ID law until after the election. Simpson ordered that voters without government-issued photo ID should be allowed to cast regular ballots. Witold J. Walczak, an attorney with the ACLU of Pennsylvania, called the decision a "huge win."
His decision came after the Pennsylvania Supreme Court last month rejected the lower court's decision to initially uphold the law, ordering it to investigate whether the state would be able to get photo IDs to everyone who needed them.
But at the same time, the judge specifically allowed the state to continue its education and advertising campaign, which currently tells voters the IDs are required even though they're not, a move that is likely to cause more confusion.
"Confusion is not a good thing on election day," added Walczak. "Confusion is going to mean some voters stay home. Confusion is going to mean that some poll workers get it wrong."
In Florida, officials attempted to make it tougher for third-party groups to register people to vote, saying that they had to turn in new-voter registration forms within 48 hours after they were signed. Previously, the groups had 10 days to turn in the forms.
But in late August, a federal judge sided with groups like Rock the Vote and the League of Women Voters and blocked the law. Florida has since reinstated the 10-day window.
In Wisconsin, courts have struck down the state's GOP-pushed voter ID law, meaning it won't be in place for the elections in November.
While the GOP-controlled legislature in North Carolina passed a voter ID bill, Democratic Gov. Bev Purdue vetoed it.
And in Ohio, a federal judge sided with the Obama campaign in August and ordered state officials to restore three days of early voting before Election Day.
Groups working to register voters and turn people out in November find that they need to strike a balance between raising awareness of new restrictions and emphasizing that access to the ballot box is still open.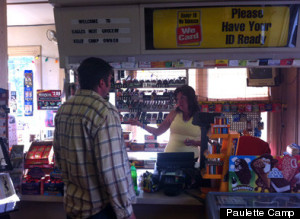 Paulette Camp explaining voting rights to a customer.
"The right to vote is fundamental, and we're committed to doing all we can to protect it," said Adam Fetcher, a spokesman for the Obama campaign. "Contrary to some reports, there haven't been many significant changes to voter ID laws since 2008, in part because there have been victories in key battleground states that will help expand voters' access. We will continue to closely monitor developments between now and election day, but looking forward, we're focused on making sure that every voter has the information they need to make their voices heard and is empowered to exercise their right to vote. We want people to know that voting is easy when you have all the facts."
While restrictions to the ballot box would no doubt affect individuals of all political stripes, provisions like voter ID would hit students, minorities and low-income Americans particularly hard -- groups that tend to vote Democratic. This fact was actually acknowledged by a top GOP legislator in Pennsylvania, who said a voter ID law would "allow Governor Romney to win the state of Pennsylvania."
The Obama campaign has made electoral education a staple of its outreach and communications efforts this cycle, working to make sure that voters know the rules and that election administrators are properly training poll workers.
The Obama campaign has also launched GottaVote.com, which has state-by-state information telling people how to register to vote, what they need to bring, the rules for absentee and early voting and details about Election Day. Another site, TheBallot.org, launched by a coalition of groups, allows visitors to enter their address and see exactly what will be on their ballot on Election Day.
Matt Singer helped launch TheBallot.org and is executive director of the Bus Federation, which is a nonpartisan group working to register voters.
Singer said that while the level of confusion he and his organizers have encountered is relatively small, he noted that polling shows that many young voters are uninformed about voting procedures.
In July, the Center for Information and Research on Civic Learning and Engagement released a poll finding that 61 percent of young people didn't know the voter registration deadlines in their state. Fifty-one percent didn't know about early voting rules, and 44 percent were unsure of their state's photo ID rules.
On the ground, Singer finds the biggest impediment to registering voters is often getting people to admit that they're not registered in the first place.
In Denver, Colo., as the presidential candidates and media descend upon the city for the first presidential debate, Singer's organizers will be registering people -- on roller skates.
"People don't admit they're not registered because they don't want to look stupid," he said. "So we realized that if we look stupider, they won't be scared to tell us they're not registered."
Singer was one of the founders of the first-ever National Voter Registration Day, which aimed to register 100,000 people to vote on Sept. 25. The initiative far surpassed its goal, registering more than 200,000 people and engaging more than 4,000 volunteers.
"There are barriers to voting this year, but there have been barriers to voting since before the Revolutionary War," said Singer. "That's why there was a war, and that's why there was a suffrage movement. ... What we think is more powerful than fear is getting people excited."
Meanwhile, Camp plans to continue registering North Carolinians to vote, and hopes that the restrictions on voter access to the polls will continue to be defeated in court.
"In the end, I don't know why the Republicans are doing this," she said, adding, "I'm registering anyone who wants to register. Unlike the Republicans, I'm trying to get people to vote -- not stop people from voting. I want everyone who can vote, to vote."
*************************
What's happening in your district? The Huffington Post wants to know about all the campaign ads, mailers, robocalls, candidate appearances and other interesting campaign news happening by you. Email any tips, videos, audio files or photos to election@huffingtonpost.com.
BEFORE YOU GO
PHOTO GALLERY
Polls: Obama vs. Romney