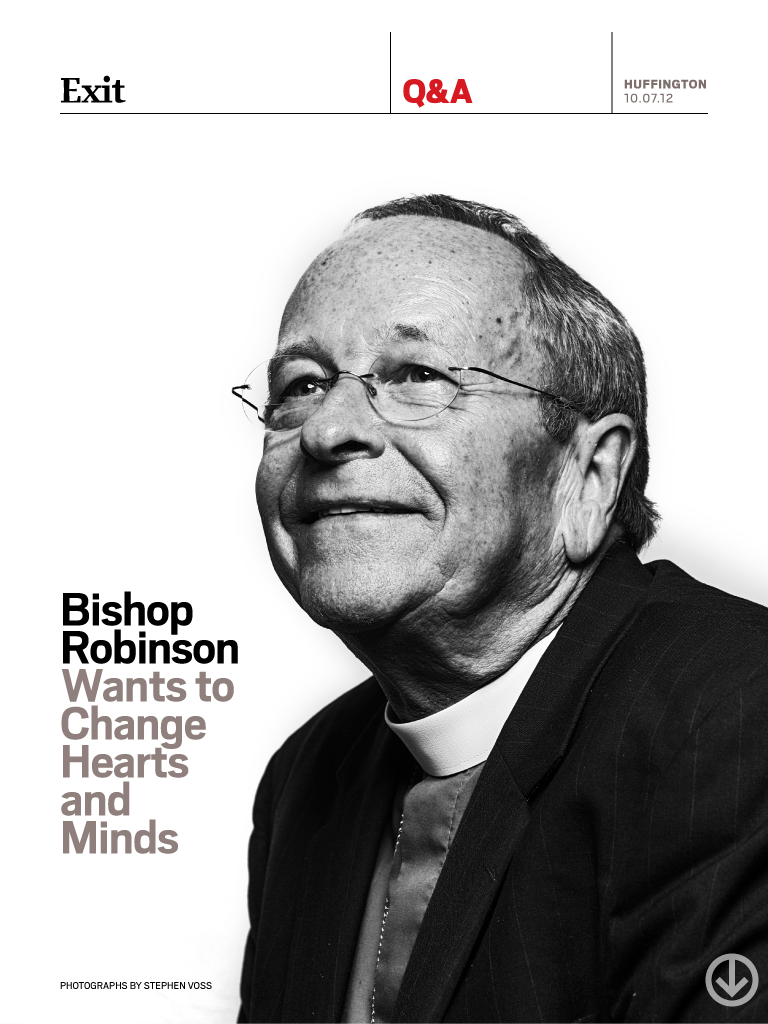 The Anglican communion was rocked in 2003 when the Episcopalian Diocese of New Hampshire ordained an openly gay man its ninth Bishop. After a tumultuous decade that featured death threats and bullet-proof vests as well as a wedding to his partner of 25 years, Bishop Gene Robinson will be stepping down from his seat on December 31 of this year. But his work continues. A new documentary film on Bishop Robinson called Love Free or Die will be released this month, and he just published a book called God Believes in Love: Straight Talk About Gay Marriage, which answers the challenges to marriage equality that he has faced during his life spent serving the church, God and the power of love. -- Paul Raushenbush
How do you describe the spiritual significance of marriage?
The spiritual union between people is a great learning laboratory for understanding the relationship between God and a person. When you make a place in your heart for someone and you pledge to love him or her in a way that, on good days, exceeds your love for yourself, then it is a window into the way God loves us. As John said in the Gospel: "Where love is there God is also. When two people are in love, we are participating in the reality of God."
You are one of the few people out there who has been in both a heterosexual and homosexual marriage. How are they different?
Fundamentally there is no difference in what two people entering into a marriage are seeking and working for—either gay or straight. But it happens to be a fact that heterosexual marriage has an historical overlay of sexism and that the man is head of the household. That is the default position inherited over hundreds of years that women are the property of men. In modern times we have tried to remove the sexist connotations but that's the default position. Gay marriage is threatening because having two people of the same gender is antithetical to a sexist understanding of marriage. So, my real feeling is this whole debate is about the beginning of the end of patriarchy.
What are the main obstacles to getting full marriage equality?
Number 1 is religion. It is fair to say that 90 to 95 percent of all oppression we have experienced as gay people has come through the hands of religious people, and it is going to take religious people to undo that. That's what I am devoting my life to. Long after we have the legal remedies, there will still be hearts and minds to change.

The Anglican Communion is having trouble choosing a new leader. Do you think the church will splinter?
It was supposed to splinter the day I was consecrated, and here we are nine years later and we're still the Anglican Communion. No, I don't think it is going to splinter. At the Lambeth Conference [the main gathering of Anglican Bishops], the African Bishops said to the American Bishops: "Look, we don't get this whole thing. You say we have gay people in our churches, we don't know about that, but this comes way down on our list of priorities. We have people dying of malaria and AIDS, we've got abject poverty, civil war, women and children being abused—so, why don't we work together on getting water to that village over there. And somewhere along the line we'll get to this. And we might even discover that some of the people who are helping us get water are gay. And eventually we can learn about that."
What advice do you have for young LGBT people who are seeking spiritually grounded lives?
The journey of coming out is an inherently spiritual one which asks the religious questions: Who Am I?, Where am I going? Am I worthwhile? Am I loved, Am I loveable? So, LGBT people should recognize that they are on a spiritual journey and that even if the church has treated them poorly and they have gotten as far away from church as they can get, they still have a spiritual life with spiritual needs. And even if the church often answers the question of "are you loved or lovable" wrong, God never does.
This story originally appeared in Huffington, in the iTunes App store.