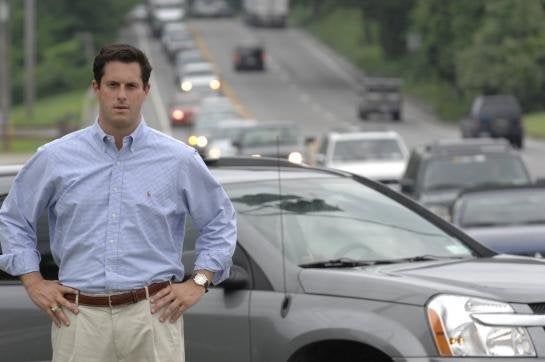 A New York state senator elected with Tea Party support reversed himself and supported a minimum wage hike on Wednesday, less than a week after he said he opposed it.
State Sen. Greg Ball (R-Patterson) said Wednesday that he would introduce legislation to hike the Empire State's minimum wage and cut business taxes for small business owners, Capitol Tonight reported on its political blog. State legislators in Albany have been discussing raising the minimum wage to $8.50 an hour, a 17 percent increase from the current $7.25.
Capitol Tonight reported that Ball's Democratic opponent, Justin Wagner, released video of Ball at a Sept. 27 editorial board appearance, saying that he was against raising the minimum wage. Ball said he was concerned about the effect on small business owners. The clip does not include talk of a tax cut tied to the wage hike.
"Many studies have shown that an increase at this time in the minimum wage would have the effect of laying off people at lower income level," Ball said in the video. "I don't personally feel at this time that because of the jobs we're hemmoraging to put an additional burden on small business owners."
Wagner, an attorney and former advisory neighborhood commissioner in Washington, D.C., told The Journal News that he has been pushing a minimum wage hike and has been criticized by Ball for it.
"In fact, Ball is still promoting campaign material that attacks me for supporting a minimum wage increase," Wagner told The Journal News. "If there's one thing that Hudson Valley voters understand it's that Greg Ball will say anything during election season."
Ball's campaign spokesman Joe Bachmeier told HuffPost he had no response "at this time" to the video and Wagner's remarks.
Ball one of the more conservative state senators in New York and had Tea Party support during his 2010 campaign. This included speaking at several Tea Party rallies in the Hudson Valley during the 2010 and while a state assemblyman in 2009. Ball's relationship with the Tea Party soured after he became a state senator and considered voting in favor of legalizing same-sex marriage.
The race between Wagner and Ball for the Hudson Valley Senate seat has been heated. In August, Wagner accused Ball of impersonating him in an email to WackyWagner.com, a website Ball set up to attack Wagner.
The race between Ball and Wagner is considered one of the most competitive state Senate races in New York, where Republicans control the Senate 33-29.
*************************
What's happening in your district? The Huffington Post wants to know about all the campaign ads, mailers, robocalls, candidate appearances and other interesting campaign news happening by you. E-mail us any tips, videos, audio files, and photos to election@huffingtonpost.com.
BEFORE YOU GO
PHOTO GALLERY
2012 Senate Race Polls