Chanel is known for fantastic accessories. Whether it's the iconic 2.55 bag that is now more expensive than a small car, or shoes adorned with faux stalagmites, Karl Lagerfeld knows his ladies love their accessoires. So when he sent models down the Chanel spring 2013 runway this Monday (we're late to the game due to our awesome relaunch!) wearing bags with handles that looked like hula hoops, we can only guess how many members of the audience were mentally placing their orders. Our money is on Lady Gaga carrying that bag shortly, and of course, over-the-top Vogue Nippon editor Anna Dello Russo will probably make a video where she literally hula hoops with the bag.
PHOTO: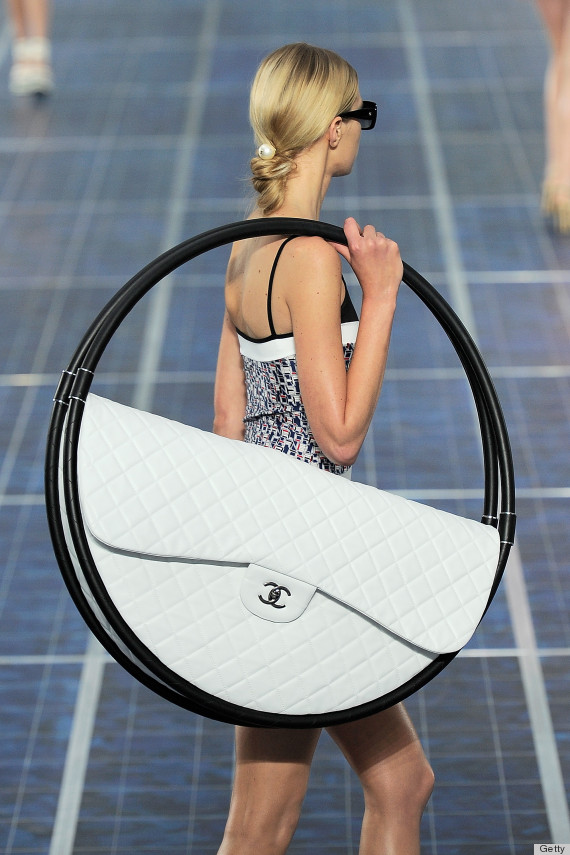 But it does have us wondering: Who will actually purchase the latest Chanel bag? Can you imagine entering a crowded subway train with a bag whose diameter is larger than your average, umm, car tire? Mon dieu, the dirty looks would be endless (though we suppose that anyone willing to shell out the big bucks for such an extravagant bag isn't taking public transportation).
What do you think? Would you pay good money for the latest Chanel bag?
PHOTO GALLERY
Celebrities In Chanel
Want more? Be sure to check out HuffPost Style on Twitter, Facebook, Tumblr and Pinterest.
BEFORE YOU GO