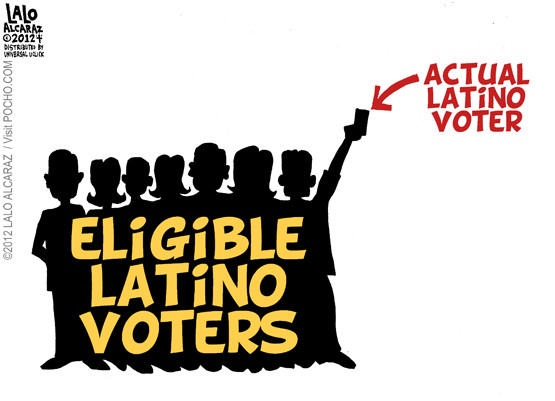 The recent release of Pew Hispanic Research's latest findings, that there are 24 million eligible Latino voters, has the political classes chattering, pollsters energized and candidates running around, seeking to connect -- CONNECT -- with these voters.
But, the reality is that a large percentage of these voters are not registered and so will not be exercising their right to have a say in the country's future:
Voter registration for the nation's largest minority group has lagged behind others. So too, has participation. From 2008 to 2010, the number of Latinos registered to vote dropped by 600,000. Only half of eligible Latinos voted in 2008, compared to 65 percent of blacks and 66 percent of non-Hispanic whites, according to Pew.
Scroll down to see more examples of Lalo Alcaraz's work.
About the artist:

Lalo Alcaraz is perhaps the most prolific Chicano artist in the nation, according to his own bio. Lalo has been busy for over two decades chronicling the political ascendancy of Latinos in America and vigorously pushing the boundaries of Chicano art in the Post Chicano Art Era.

An award-winning journalist and illustrator, Lalo is also an author, faculty member at Otis College of Art & Design in Los Angeles, and radio host. He is also the creator of the first nationally-syndicated, politically-themed Latino daily comic strip, "La Cucaracha."

Lalo's most recent project is a re-boot of the famed Pocho.com, his pioneering humor, satire and cerveza webzine/blog/news site.
PHOTO GALLERY
The Political Satire Comedy Of Lalo Alcaraz
BEFORE YOU GO