Mitt Romney's campaign is taking advantage of Vice President Joe Biden's comment on Tuesday that the middle class has "been buried the last four years" by offering supporters a T-shirt emblazoned with the statement.
The white shirt, called "Honest Joe," features a portrait of Biden grinning above the text, "The Middle Class 'Has Been Buried The Last Four Years.'"
"You're right about that, Joe," reads the description on Romney's campaign website. "We couldn't have said it better ourselves."
The shirt is available to supporters who donate $30 or more to the Romney campaign.
At a campaign event in Charlotte, N.C., on Tuesday, Biden asked a crowd of supporters how Romney and his running mate, Rep. Paul Ryan (R-Wis.), "can justify raising taxes on the middle class that's been buried the last four years? How in the Lord's name can they justify raising their taxes with these tax cuts?"
The Romney campaign jumped on Biden's comments, tweeting that Romney agrees and that's "why we need a change in November."
Ryan, for his part, repeated the message at a campaign event in Burlington, Iowa, telling supporters that "we need to stop digging by electing Mitt Romney the next president of the United States."
Although the Obama campaign said that Biden was saying that "the middle class was punished by the failed Bush policies," the vice president adjusted his statement in a later campaign event.
Read more about Biden's comment -- and what he said at the next campaign event -- from The Huffington Post's Luke Johnson and Jennifer Bendery.
LOOK: "Honest Joe" T-Shirt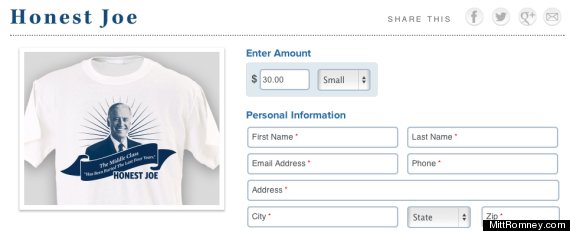 BEFORE YOU GO
PHOTO GALLERY
Biden's Greatest Hits