When Derrick Doba's wife's computer was stolen, the culprit inadvertently left behind a incriminating and embarrassing clue -- a nude photo of himself.
The laptop was swiped from his Mesa, Ariz., office on Sept. 14 while his wife, Christiana, was backing up items on it.
"She was out of the office and I was in the back and when I heard the door open, I thought it was her," Doba told the Huffington Post. "But it wasn't her. When she came back, she started asking, 'Where's my computer?' and it took 10 minutes for it to sink in that someone walked into the office and took it."
The Dobas have filed a police report and thought the incident might end there.
Then, when Derrick logged onto their LogMeIn.com to remotely access the stolen laptop, he confronted the burglar.
"The other individual on the other end didn't really know what was happening and we started fighting over control of the cursor," he told KPHO-TV.
During their heated encounter, Doba wrote the person using the computer a note via a Microsoft Word document using what he admits were some choice words.
"I basically said, 'Bring back the computer, we can see you, and the police are on the way,'" he told the station. However, the person using the computer logged off.
Then, a few days later, the Dobas' new laptop showed up and they were able to restore all the files on the old computer to the new one using their online backup system, Carbonite.com, KNXV-TV reported.
Along with old photos and documents, there was something new: A folder of photos; very personal photos, including one of a burly, blonde-haired guy working at the computer naked.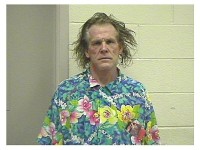 Using the photos as evidence, the Dobas have been able to find some clues track down the naked guy -- who looks like a celebrity impersonator of Nick Nolte's mugshot (left). It seems that he and a female companion were recently staying at a hostel in Yuma, AZ.
"There is a photo of them in a hotel room surrounded by what looks like drug residue," Doba told HuffPost.
Initially, the police didn't give much chance of getting the computer back, but the evidence that Doba has been able to give them has spurred them to reopen the investigation.
Since photos of the naked computer thief have been made public in the Phoenix area, Doba has heard of lots of eyewitness sightings of the man, only clothed.
"Some people told me they saw the couple fighting on the Metro light rail," he said.
Although the very public exposure of the naked man could be embarrassing enough, Doba doesn't want to stop with humiliation.
"I want to get this guy," he said. "I want justice."
That may happen. Detectives were able to identify the woman based on the photos that Doba accessed and went to speak to the suspects on Tuesday evening.
VIDEO: (Story Continues Below)
BEFORE YOU GO
GALLERY: THINGS YOU CAN'T NAKED
PHOTO GALLERY
Things You Can't Do Naked