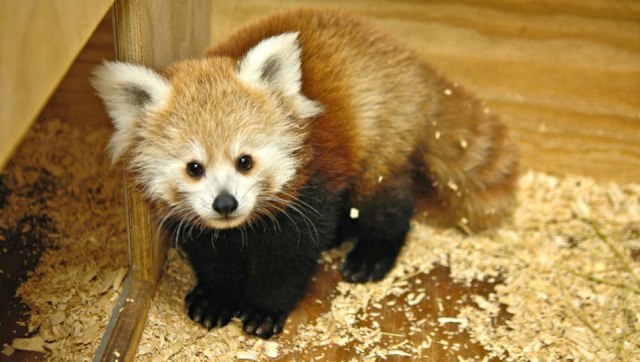 A female baby red panda born at the Oklahoma City Zoo has been given the name "KayDee," after the Oklahoma City Thunder star Kevin Durant, aka "KD," according to a press release from Oklahoma City Zoo officials.
[Scroll down for photos of KayDee]
KayDee was born on the same night the Thunder won their first Western Conference Championship. It is rumored the Charlotte Bobcats - those of seven wins and 59 losses last year - are interested in signing KayDee to a multi-year contract and believe KayDee can bring a boost at the Power Forward position in at least two years. But before that happens (never will) all of the excitement belongs to the Oklahoma Zoo.
"We've been eager to introduce KayDee to the public since June," zookeeper Chrislyn Newton said in the release. "But she needed time to bond with her mother, Jaya, and grow a little bit before we made the announcement."
Weighing less than a pound at birth, the three-month-old now weighs four pounds and is starting to eat solid foods.
KayDee's birth was part of a Species Survival Plan developed by the Association of Zoos and Aquariums to conserve, protect, and breed vulnerable and endangered species.
The red panda has been listed as "vulnerable" according to IUCN's Red List of Threatened Species because only 10,000 are currently in existence at maturity. The list also confirms the red panda is estimated to decline at a rate of over 10 percent over the next 30 years.
According to the World Wildlife Foundation, population growth, especially in Nepal and India, has led to the large-scale deforestation of the red panda's habitat in those regions. Today, nearly 75 percent of the panda's natural habitat are in unprotected regions, a fact that the World Wildlife Foundation and other networks are trying to change.
Want to get involved in the fight to preserve the red panda? Here's how you can help! And how could you not want to help after looking at the photos below of KayDee?
PHOTO GALLERY
Meet KayDee, the Oklahoma Zoo's Rambunctious Baby Red Panda
BEFORE YOU GO