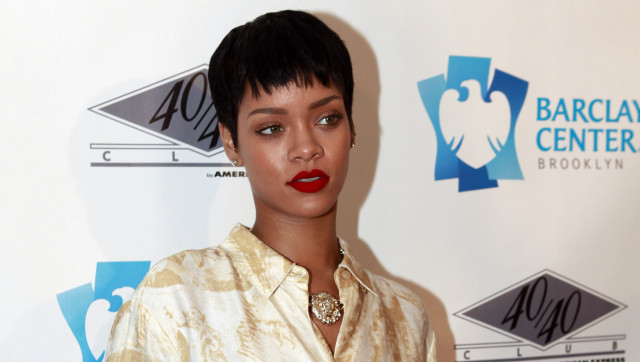 The other day I wandered into the kitchen of the house I was visiting with friends in my pajama top and yoga pants. I had barely wiped the sleep from my eyes or filled my coffee mug when my friend asked me about my shirt. "Oh yeah, I need to change. At least I'm wearing a bra, right?" was my response. She laughed and said that she loved pajamas and that I should wear it every day.
Wearing pajamas outside your bedroom is a style trend that has been going on for a few months now. Rihanna recently stepped out at the Barclay's center in a pair of printed PJs from Acne's resort collection, and a few months ago she wore a blue set from Stella McCartney. Solange Knowles is known for mixing prints in the most how-did-she-do-that way, and often her pants are the relaxed, pajama-ish variety. So that got us thinking, why not take that pretty set of PJs you got for Christmas, split them up and wear them in public?
We aren't talking about the Victoria's Secret negligee your significant other got you for your birthday (or his/her birthday, for that matter). Unless you're Mariah Carey, keep your lace-clad boobies under wraps. But that patterned, loose blouse and pants set you've got tucked in your drawer? Add a pair of skinny jeans to the top, or a structured blazer to the bottom, and off you go.
Here, ten pajamas for under $100 that are screaming to see the light of day.
PHOTO GALLERY
Under $100: Pajamas
Want more? Be sure to check out HuffPost Style on Twitter, Facebook, Tumblr and Pinterest.
BEFORE YOU GO