We'll admit it: we've never seen "The Hunger Games" (or even read the books!). But we continue to fall more and more in love with Jennifer Lawrence, even enough to see the next movie installment, "Catching Fire" (well, maybe).
So we were thrilled to find that after months and months of red carpet turns and hit films, Jennifer Lawrence is finally making her Vogue debut. The actress poses for Vogue UK's November issue clad in Dolce & Gabbana, her back arched in that I'm-so-glamorous-I-make-this-look-easy way.
Which we know it isn't. See, J-Law (as she will henceforth be known on this site) is not some untouchable, unrelatable Hollywood starlets with a perfect answer for every question and perfect smile for every interview. Girl is real, as evidenced by her amazingly candid interviews and self-deprecating manner (she actually told David Letterman, "Oh, I'm a troll. I hate myself..."). She talks about diarrhea on national TV, makes the silliest faces and didn't seem bothered in the slightest when journalists criticized her for looking too curvy in "The Hunger Games" (the Times described her "seductive, womanly figure" as mismatched for a supposedly hungry character).
Thankfully the fashion world has embraced her, TMI interviews and all. J-Law already landed the October cover of W, dramatically styled with feathers and leather. But we much prefer this quietly elegant Vogue UK cover, which leaves Jennifer's face and figure undistorted and beautifully displayed.
Check out J-Law's new shoot below. Do you like this cover?
PHOTO: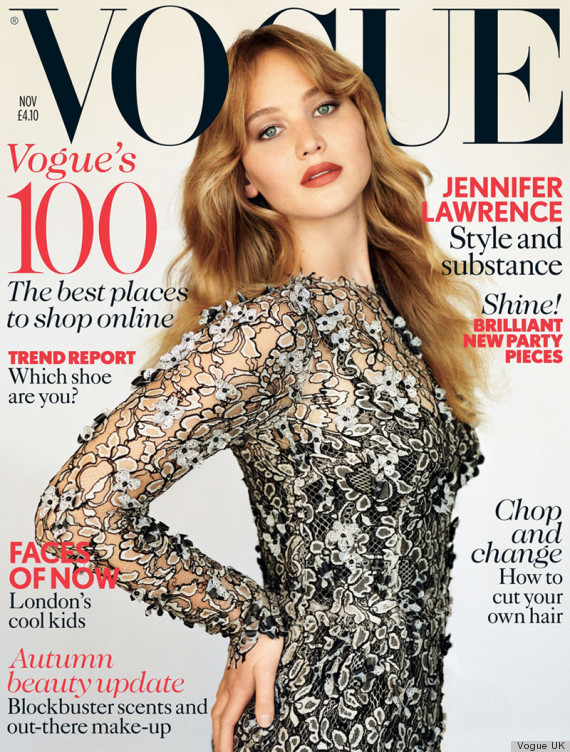 See Jennifer's easy glamour:
PHOTO GALLERY
Jennifer Lawrence's Style Evolution
Also, because it's too hilarious not to include...
Want more? Be sure to check out HuffPost Style on Twitter, Facebook, Tumblr and Pinterest.