You know what is totally normal? Hanging out with your friends while topless.
Wait, that's not normal? Our mistake, because that's totally normal for Lady Gaga. The 26-year-old singer must be very close with designer Donatella Versace, because she has no problem chillin' half naked with her.
The matching bleached blond ladies hung out during Paris Fashion Week, and celebrity photographer Terry Richardson was there to capture the event. The singer continues to show she's super comfortable with her body, as she uploaded a photo of herself topless, covering her breasts and flashing a bit of nipple to her social networking site Little Monsters.
It's not the first time the singer has posted revealing shots to the site. Just last week the singer posed in just her bra and underwear, proclaiming a "body revolution" after reports the singer had gained weight spread like wildfire online. And it's not the first time Gaga got a little naked on the site either. In July, the "Born This Way" singer posted a photo of herself sitting in an armchair, wearing flesh-colored underwear and pulling her knees up to her chest to cover her breasts.
Hey, it may not be the way we hang out with our friends, but we think it's great that Gaga is so comfortable with her body.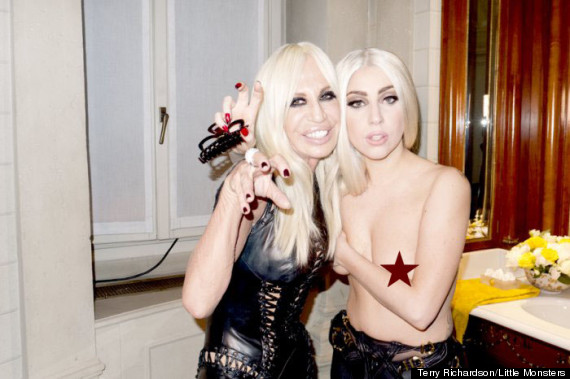 PHOTO GALLERY
Celebrities With Leaked/Hacked Photos
BEFORE YOU GO