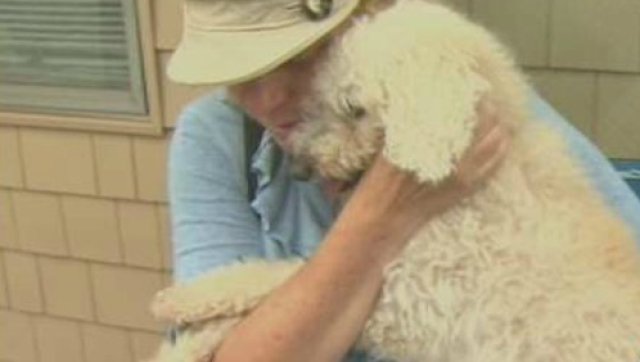 A 6-year-old poodle mix named Suzie was finally reunited with her owner after surviving being hit by a car, wedged into the car grille, and taken on a terrifying 11-mile ride to another state.
According to the Examiner, Suzie had run out into the street in Taunton, Mass., when she was struck by a Toyota Camry. The driver of the car got out to look, but he didn't notice anything unusual. He then continued to drive his car at speeds of up to 50 miles an hour all the way to East Providence, R.I.
(SCROLL DOWN FOR VIDEO)
Luckily, someone spotted the dog on the highway in Rhode Island and flagged the car down.
The driver stopped at a police station and animal control was called to remove the poor puppy from the vent just below the front license plate, reported Fox News. Suzie was immediately taken to a vet; she suffered a concussion, a minor bladder rupture, and a lost tooth.
"They pulled the dog from the grille and it was still holding on for dear life," William Muggle, East Providence's animal control supervisor, told the Boston Herald. "It was a lucky dog."
Suzie had an implanted electronic identification chip that would've made finding her owners easy. But the device had never been registered, so authorities found no owner's name for Suzie, WPRI reports.
Luckily, the brave poodle was finally reunited with her owners when they saw her on the local news in Massachusetts.
"It was the help of the media that got the dog home," Muggle said to the Boston Herald. "That's the reason we reached out. This is a real happy ending."
Watch the video below, courtesy of Fox News:
BEFORE YOU GO